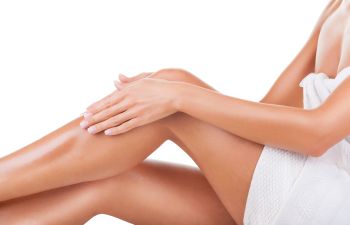 Varicose veins are enlarged, swollen, and twisted veins that are blue or purple and appear on the legs and feet. However, spider veins are smaller and less severe than varicose veins and appear on the face and legs.  These unsightly veins could affect your image of yourself when in public. Women are more likely to get them than men and the probability go having them  increases with age. According to WebMD, several factors contribute to a person getting varicose and spider veins. These include:
Heredity
Obesity
Jobs that require excessive standing
Hormonal influences of pregnancy, puberty, and menopause
Use of birth control pills
Postmenopausal hormonal replacement
History of blood clots
People with varicose veins complain of aching or cramping in legs. Other symptoms include tiredness, restlessness, burning, throbbing, tingling, or heaviness in the legs.
Varicose and Spider Vein Relief with Sclerotherapy
Sclerotherapy has been around since the 1930s and is a minimally invasive procedure used to treat varicose and spider veins. Sclerotherapy injects chemicals, known as sclerosing agents, into the damaged veins causing the veins to collapse. The collapsed vein eventually fades after a few weeks. Sclerotherapy can also reduce pain or side effects caused by varicose and spider veins. Sclerotherapy can improve venous blood flow and limits chronic swelling.
Dr. Greg Levitin at the Vascular Birthmark Center specializes in the treatment of varicose and spider veins. He will go over your medical history and examine your damaged veins to ensure you are a good candidate for sclerotherapy. With offices in Los Angeles and New York, Dr. Levitin and his team are ready to help you fight against your varicose and spider veins.
Call Dr. Levitin at Vascular Birthmark Center today and schedule your consultation.
Posted on behalf of The Vascular Birthmark Center