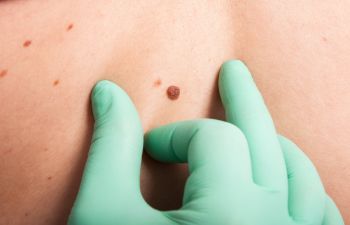 Nevi, commonly called moles, are clusters of melanocytes (pigment cells in the skin) that are quite common. Most adults have between 10 and 40. Nevi are often categorized as pigmented or non-pigmented and normal or abnormal. Abnormal nevi are more likely to develop into some form of skin cancer. Normal moles, pigmented or non-pigmented, are usually not worthy of attention, unless they appear in a non-convenient location that causes functional or aesthetic concerns.
Some nevi are present from birth and are quite noticeable. Over time, the person can become self-conscious of its appearance and desire removal. In some cases, the nevus can form in a problematic area, restricting movement or affecting a cluster of nerves or an organ. The Vascular Birthmark Center, with offices in New York and Los Angeles, offers nevi removal for patients.
Here are three reasons to consider nevus (mole) removal.
Cancer
The main non-cosmetic reason patients come to us for nevi removal is the risk of cancer. Irregular or abnormal nevi are at a greater risk of turning into various forms of skin cancer. Some of these are quite aggressive and can spread quickly to other areas of the body. Therefore, if any nevus, or mole, appears abnormal, or you notice changes or bleeding from it, you should consult with the specialists at the Vascular Birthmark Center for an evaluation.
Our specialists can examine the nevi and even take a sample, if warranted, for testing. We have varying methods to remove nevi that can minimize the risks of prominent scarring. Smaller nevi present little risk of leaving a scar; larger or deeper nevi may require certain measures to minimize scarring after removal.
Impairment
At times, nevi can form in areas that become a problem for the patient. Large nevi that develop where the arm bends can restrict movement. Forcing excess movement can tear the nevi, causing bleeding and a high risk of infection. Other nevi form around or near nerve clusters, affecting how nearby nerves function. Those nevi that form near bodily organs may require specialized surgery to remove, preventing harm to the body and its vital functions. An example would be a mole that forms on or near an eyelid.
Aesthetics

By far, the most popular reason patients wish to remove nevi is for aesthetic, or cosmetic, reasons. The mole appeared in a prominent place the patient finds embarrassing or uncomfortable. Self-esteem issues or confidence in appearance can be harmed, so they investigate removal options.
The specialists at the Vascular Birthmark Center can explain the different options for removing nevi that are cosmetic concerns during a private consultation. Contact our offices in New York or Los Angeles to schedule an appointment to discuss nevi removal.
Posted on behalf of The Vascular Birthmark Center: Gregory M. Levitin, MD
200 W. 57th St., Suite 1410
New York, NY 10019
Phone: (212) 316-0616