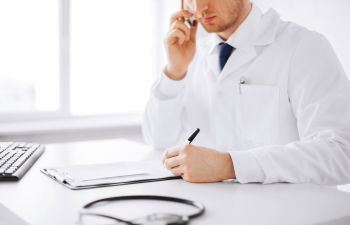 Vascular Birthmark Center can offer laser therapy treatment options to treat vascular birthmarks. One type of laser treatment that Dr. Levitin offers is Pulsed-Dye Laser Treatment. This type of treatment is used in reducing red color and removing the telangiectasias ("spider vessels").
If you or your child has a Pulsed-Dye Laser (PDL) treatment, it will typically take only a few minutes during an outpatient visit. While most patients only require 1-3 treatments, patients with port wine stains, hemangiomas and extensive rosacea may need more treatments.
As with most treatments, you can expect some level of side effects. With PDL treatment the side effects are mostly minimal. Bruising is the most common side effect, but is not always a side effect. If you do have bruising, it will be most pronounced in the first few days after the treatment, and usually goes away within 3-10 days. Other, less common side effects may be temporary pigmentary changes for a few weeks.
After Your Treatment
After your treatment you should maintain a good skin care routine. Be sure to apply moisturizer 2-3 times per day to help protect your skin and speed your healing. In addition, be sure to apply sunscreen to help minimize the likelihood of pigmentary changes.
The Pulsed-Dye Laser is one way that Dr. Levitin will help treat  vascular birthmarks. Call and book your appointment with him today to discuss how laser treatments can help you achieve the results you desire for your vascular birthmark.
Posted on behalf of The Vascular Birthmark Center: Gregory M. Levitin, MD
200 W. 57th St., Suite 1410
New York, NY 10019
Phone: (212) 316-0616