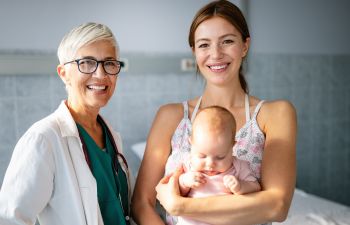 Every new parent eagerly learns all they can about the new child they expect. Among all the information available are numerous articles about signs of problems at birth and birthmarks. Vascular anomalies are actually quite common in children, and many are present at birth. Approximately one out of every ten full-term births in the United States have a hemangioma, a form of vascular tumor.
Misinformation and rumors abound on the internet, and the word 'tumor' carries a heavy negative stigma, usually making people think of cancer. Here are some common questions we get at the Vascular Birthmark Center about vascular tumors.
Can Any Tumor Become Cancerous?
The word 'tumor' only means an unordinary growth of cells, and it does not always mean cancer. In fact, the vast majority of vascular tumors are benign, meaning there is no chance it will become cancerous.
Do Tumors Always Require Surgery?
While some types of vascular tumors do require surgery to treat or remove, the vast majority do not. Typically, specialists will watch a tumor over a period of time to determine if treatments are necessary.
Is There Only One Type of Vascular Tumor?
There is more than one type of vascular tumor, and each type can present its own symptoms and potential challenges. They are:
Hemangiomas (infantile hemangiomas are the most common)
Pyogenic granulomas
Glomangiomas
Kaposi's sarcoma
Angiosarcoma
Hemangioendotheliomas (Kaposiform hemangioendothelioma)
How Are Vascular Tumors Discovered?
A physical exam is the most frequent way a vascular tumor is discovered. After discovery, a specialist may use X-ray, CT and MRI imaging to determine the type, size and other factors of any vascular tumor. This is important to determine if/how treatment is warranted.
Is Diagnostic Testing for a Vascular Tumor Harmful for My Newborn Baby?
Modern methods of diagnostic imaging are safe for newborns and infants. Plus, not all vascular tumors require these types of testing. Your vascular specialist will determine if it is needed, and they can answer your concerns about any harm to your baby's health.
How are Vascular Tumors Treated?
The majority of vascular tumors grow and shrink on their own over time. However, because they do involve blood vessels and/or lymphatic vessels, treatment can be required. Medications, laser therapy, sclerotherapy, surgery and other treatments may be recommended, depending on the size, location, type and nature of the particular tumor.
If your child has been diagnosed with a vascular tumor, come see the specialists at the Vascular Birthmark Center in New York City. Call or complete the online form to schedule a consultation.
Posted on behalf of The Vascular Birthmark Center: Gregory M. Levitin, MD
200 W. 57th St., Suite 1410
New York, NY 10019
Phone: (212) 316-0616