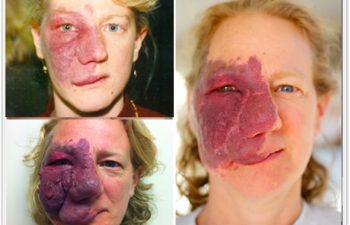 Port Wine Stains are a reddish purple patch of skin that can appear anywhere on the body, but most commonly on the face or neck. About 1 in 300 newborns will have this form of anomaly, medically known as a Capillary Malformation. The popular name port wine stain comes from the mark's appearance, like that of a dark wine spill. Most have no complications and require no treatment.
What Causes Port Wine Stains?
Port wine stains are caused by small blood vessels, called capillaries, that form near the surface of the skin and can be seen. They are clustered together to appear as the customary reddish purple color patch and can be small or large. They tend to grow darker as the child ages.
Capillary malformations are caused by a genetic mutation during early development before birth. No pre-birth activities by the mother have been linked in any way with the formation of port wine stains. Common fables from older generations predicted that a pregnant woman that walked on plowed ground or looked at a snake would "mark the baby" and cause a port wine stain birthmark. These have been completely disproved with medical research.
Are There Possible Complications with Capillary Malformations?
In rare cases, a port wine stain can indicate a more serious underlying abnormality. Port wine stains that appear on upper face or forehead can indicate the presence of Sturge-Weber Syndrome. This condition can affect the child's vision and possibly his or her brain activity. Capillary malformations on the legs can also indicate underlying vascular conditions that may require treatment.
The specialists at the Vascular Birthmark Center will use advanced CT and MRI imaging to closely examine the formation of bone, brain and blood vessels to determine if your child's port wine stain is an indicator of a more serious condition. If so, treatments are available to prevent complications.
Port wine stains can be removed for purely aesthetic reasons if they appear in obvious areas with laser therapy. Your Vascular Birthmark Center provider can discuss this option with you if you wish.
If your child is born with a port wine stain birthmark, schedule a consultation with the professionals at the Vascular Birthmark Center for an evaluation.
Posted on behalf of The Vascular Birthmark Center: Gregory M. Levitin, MD
200 W. 57th St., Suite 1410
New York, NY 10019
Phone: (212) 316-0616