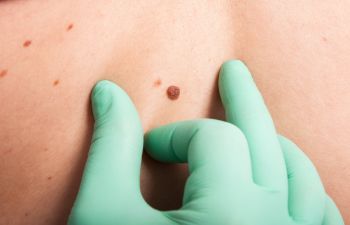 You probably know more about Nevus than you think. Nevus (plural nevi) is a medical term for a mole you're born with. These are very common types of birthmarks. Another word for this is congenital melanocytic nevi (CMN). They are characterized by being a round or oval-shaped patch of colored skin and they are usually raised from your skin. They can be either single or multi-colored. They vary in size and can have a hair or hairs growing out of them. It is often a choice whether you want it removed or not unless it is determined that it is medically necessary.
InStyle lists 13 Gorgeous Celebrities Embracing Their Birth Marks
Marilyn Monroe
Cindy Crawford
Angelina Jolie
Cassandra Naud
Mariah Carey
Mandy Moore
Scarlett Johansson
Kate Upton
Khloe Kardashian
Blake Liely
Eva Mendes
Rachel McAdams
Natalie Portman
It is important to have a full evaluation of your nevi to determine if it needs to be removed. If it's determined that it does not pose a risk, then you will need to decide if you want it removed for aesthetic reasons, it is important to understand the impact of the treatment for removal.
Dr. Greg Levitin at Vascular Birthmark Center can help you determine which treatment is right for you. He can offer you a series of lasers that are set to different wavelengths, which will enable him to better address your variations of nevi coverage and pigmentation. He offers other treatment options as well.
If you are interested in discussing the potential benefits of nevus treatment or removal, we invite you to contact our team at Vascular Birthmark Center. Call us today.
Posted on behalf of The Vascular Birthmark Center: Gregory M. Levitin, MD
200 W. 57th St., Suite 1410
New York, NY 10019
Phone: (212) 316-0616