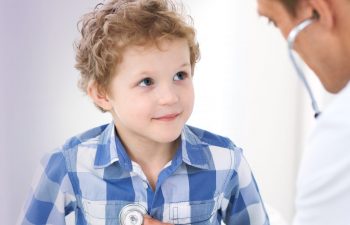 Birthmarks can be benign skin marks that have no effect on your daily life but some can signify a more serious health condition like Klippel-Trenaunay syndrome. This rare congenital condition has a range of symptoms affecting soft tissues, bones and veins. According to research, approximately one of 100,000 people of all ethic groups and ages can develop this complex condition. Here are the top three characteristic features of Klippel-Trenaunay syndrome and what you can do to treat this condition.
Port Wine Stain
A port wine stain birthmark is a common feature in Klippel-Trenaunay syndrome. In most cases, there is a pale pink to purple mark covering a section of one limb. This birthmark is believed to be caused by swollen capillaries near the surface of the skin. Skin infections can also occur with this syndrome and can be treated with antibiotics and pain medication.
Overgrowth of Bones and Soft Tissues
An overgrowth of bones and soft tissues in one limb is a unique feature of Klippel-Trenaunay syndrome compared to other types of birthmarks. Some individuals diagnosed with this condition may not experience this symptom. This overgrowth can lead to a feeling of heaviness, pain and loss of range of motion for the individual. To combat this issue, a specialist may recommend orthotics or surgery.
Vein Issues
One of the other issues that can occur in Klippel-Trenaunay syndrome is veins twisting and swelling near the surface of the skin. This painful issue is commonly known as varicose veins. These vein issues can create other problems like blood clots, anemia, internal bleeding and lymphatic problems. Treatment options for vein issues can include compression stockings or sclerotherapy to help promote proper blood circulation.
Advanced New York Klippel-Trenaunay Syndrome Treatment
While there is no cure for Klippel-Trenaunay syndrome, there are effective treatment options to help relieve symptoms. These options can vary depending on the severity of symptoms. Vascular Birthmark Center specializes in a comprehensive range of advanced treatments for birthmarks and malformations for families in New York. Dr. Levitin can meet with you during a consultation and recommend the best treatment for your needs. Call to book an appointment today.
Posted on behalf of The Vascular Birthmark Center: Gregory M. Levitin, MD
200 W. 57th St., Suite 1410
New York, NY 10019
Phone: (212) 316-0616