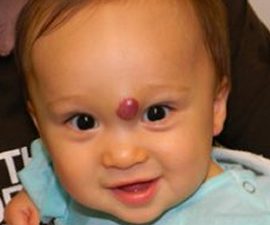 When you are born with a birthmark it is considered a congenital birthmark. When this occurs, it is a part of who you are. Your parents (and eventually you) don't know or see you any other way because it's always been present on your body. It's a part of who you are…your identity.
For children, a birthmark may feel like something that makes them unique and they love the fact that they're different and have something special that others do not have. However, for most children, a birthmark may be something that causes emotional strain or embarrassment. The attention the birthmark may bring to them can cause people to ask questions about it that seem intrusive and maybe even rude.
It's important for children to see how you, as the parents, respond to the birthmark. Simple and open conversations will go a long way as your child processes the birthmark, and then the potential removal of it as well. Give your children simple answer responses to give to questions asked about it. A simple response like, "It's a birthmark. I've had it since I was a baby" is a great tool to give your child.
If your child was born with a birthmark Dr. Levitin at Vascular Birthmark Center can help you come up with a safe and effective plan for treating the congenital birthmark. He offers many treatment options such as: laser therapy, surgical treatment, and the use of propranolol, steroids or vincristine.
Contact Dr. Greg Levitin today to address any questions or concerns you may have during your consultation about your congenital birthmark.
Posted on behalf of The Vascular Birthmark Center: Gregory M. Levitin, MD
200 W. 57th St., Suite 1410
New York, NY 10019
Phone: (212) 316-0616