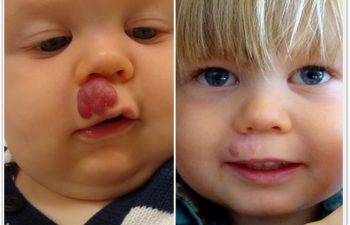 A congenital hemangioma is a type of benign vascular tumor that is fully formed at birth and does not grow after birth. Congenital hemangiomas are a group of blood vessels abnormally formed and could impact blood flow. Congenital hemangiomas are commonly found on the skin, head, neck, arms, or legs. There are two groups that congenital hemangiomas are divided into: rapidly involuting congenital hemangioma (RICH) and non-involuting congenital hemangioma (NICH).
The rapidly involuting congenital hemangioma (RICH) will start to shrink without treatment right after the baby is born. Rapidly involuting congenital hemangiomas can be a raised oval or circular shape, warm to the touch, and appear pink, blue, or dark purple in color. By the age of 1 to 2 years old, the RICH will be almost gone. An ultrasound could detect the RICH as early as 12 weeks gestation. The non-involuting congenital hemangioma (NICH) does not shrink on its own. NICH are often flat, round, and are pink to dark purple in color. Non-involuting congenital hemangiomas are present at birth and will increase in size as the child grows. It is important to follow-up with a doctor often during the first year to monitor the congenital hemangioma. The check-ups will be to watch the size, check location, and see if it is causing any problems.
Because congenital hemangiomas are rare, they can be hard to diagnose. Doctors can diagnose most congenital hemangiomas by conducting an exam, evaluating the pregnancy and baby's health.
Dr. Greg Levitin at the Vascular Birthmark Center will conduct a full examination and present the results and recommended treatment. Dr. Levitin will ensure individualized treatment and help for your family during the process because each patient is unique. If surgery is the answer, Dr. Levitin and his team at Vascular Birthmark Center use an intraoperative nerve monitoring system throughout the procedure to reduce the risk of facial nerve damage. With offices in New York and Los Angeles, Dr. Levitin and his team are ready to walk through this journey with your family.
Call today and schedule your consultation with Dr. Greg Levitin at Vascular Birthmark Center.
Posted on behalf of The Vascular Birthmark Center: Gregory M. Levitin, MD
200 W. 57th St., Suite 1410
New York, NY 10019
Phone: (212) 316-0616