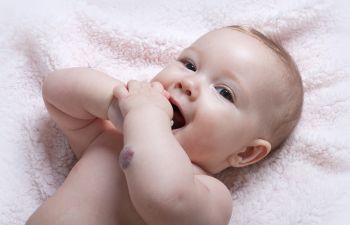 There are several types of birthmarks. Most pose no immediate health threat. They generally go through various changes over time, growing, shrinking and in some cases, disappearing after a while. One of the most common types of birthmark is the congenital nevus. These are also called moles and they are pigmented birthmarks.
Congenital nevi can be found anywhere on the body but most often they occur on the trunk, arms or legs. They usually do not cause any health problems, although rarely one could develop into skin cancer later in life. Larger nevi are at greater risk of developing into melanoma.
Appearance
Congenital nevi vary in size and color. The majority of these moles are a shade of brown, but other colors are possible. When the nevus first appears, it may have long dark or thick hair within in it. Sometimes such hair will grow over time.
Some nevi are very large. These are called larger congenital melanocytic nevus (LCMN) and are very rare. Although they start small, these nevi can be about eight inches in width by the time adulthood is reached. They are also called giant congenital nevi (GCN) and are more likely to develop into skin cancer.
Causes
Congenital nevi are not inherited. Currently, they are thought to be the result of sporadic genetic mutation. Their development is random and happens as the baby grows in the womb. Small nevi are very common with about one in every 50 – 100 people developing one. LCMN are much less common, showing up in 1 in 20,000 newborns worldwide.
These moles develop within the first 12 weeks of pregnancy and can develop on male or female babies. Congenital nevi can affect babies of all races and they can appear any place on the body.
Treatment
Though generally harmless, they are monitored for the development of skin cancer. They can be removed and some parents prefer to have them removed for cosmetic reasons. Particularly if the mole interferes with the child's functional development, it will be removed.
The Vascular Birthmark Center of New York is the place for the latest in information regarding birthmarks. Dr. Gregory Levitin is well known as one of America's top doctors for his expertise in diagnosing and treating all varieties of vascular birthmarks in children and adults. Contact us today to schedule a consultation.
Posted on behalf of The Vascular Birthmark Center: Gregory M. Levitin, MD
200 W. 57th St., Suite 1410
New York, NY 10019
Phone: (212) 316-0616