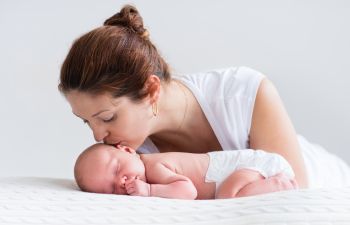 Swelling in the face can be caused by various forms of allergic reactions, cellulitis, sinus problems and other maladies. Another possible cause of a swollen face in your infant or young child, although extremely rare, is Congenital Lipomatosis. As this issue only occurs in very rare cases, few doctors have ever seen one, and this means it could possibly be misdiagnosed. Dr. Gregory M. Levitin and our seasoned specialists at The Vascular Birthmark Center can identify and recommend treatment for congenital lipomatosis at our treatment center in New York City.
What is Congenital Lipomatosis?
Congenital Lipomatosis is a condition in which fatty deposits form a tumor that grows in size over time, resulting in an unbalanced, misshapen appearance. These primarily occur on the neck or face, but can develop anywhere on the body. These tumors are benign and medically harmless, but present serious aesthetic concerns.
Often, the fatty tumor also affects nearby muscle tissue and causes nearby bones to increase in density, known as bone hypertrophy. Patients will present with craniofacial deformities, sort of a lopsided heaviness in appearance, but psychomotor development is normal. These tumors will also typically reoccur after removal.
Should I Consider Congenital Lipomatosis Removal?
There are usually no medical complications caused by congenital lipomatosis, but the patient's appearance and self-esteem are important considerations. Children tend to develop a sense of self and how they look relatively early, and this can be reinforced for the good or bad by influences from other children.
Removing a congenital lipomatosis is performed by excision and/or liposuction to remove the excess fatty tissue. The more complicated portion of the entire process is a resulting need for cosmetic surgical reconstruction to restore a normal, balanced look to the face. There is risk for some nerve damage due to the thin skin of the face and the many facial nerves throughout the area.
Dr. Greg Levitin has the skills necessary to remove a congenital lipomatosis after confirming a positive diagnosis. The Vascular Birthmark Center also partners with skilled New York reconstructive plastic surgeons for complex aesthetic restoration procedures that may be necessary.
If your child seems to exhibit swelling on one side of the face, you should have them examined by a doctor as soon as possible. If no apparent cause can be determined, contact us at The Vascular Birthmark Center to schedule an exam and consultation.
Posted on behalf of The Vascular Birthmark Center: Gregory M. Levitin, MD
200 W. 57th St., Suite 1410
New York, NY 10019
Phone: (212) 316-0616