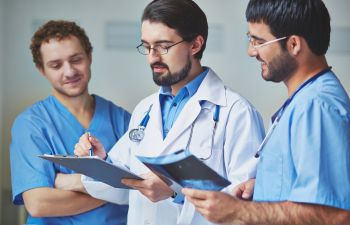 Children play and bruise themselves all the time, and it's typically no cause for worry. But certain maroon, blue or purple spots that do not fade away and seem to grow as your child grows may be a type of vascular (blood vessel) malformation called a Venous Malformation. These can pose problems with circulation at times, but your child may be more concerned with how it looks as they grow older. Dr. Gregory Levitin and the team at the Vascular Birthmark Center can diagnose venous malformations and offer treatment when necessary.
What is a Venous Malformation?
A venous malformation is a group of veins that have not developed normally. They usually resemble a knotted tangle of veins when viewed on a scan, instead of normally straight vessels. When close underneath the surface of the skin, they can resemble a dark-colored bruise, blue or maroon. When these malformations are deeper under the skin, perhaps in the muscles, they can remain undetected until they produce pain or swelling, such as when impacted by trauma.
Any physical activity or exertion can cause venous malformations to swell or grow larger, or even bleed. Researchers do not know why these malformations develop, but they suspect there is a genetic component responsible. Venous malformations do tend to run in families.
When Should Venous Malformations be Treated?
The team at the Vascular Birthmark Center will use various tools to diagnose a venous malformation, including a physical exam, blood tests, ultrasound, CT scans and MRI scans. Venous malformations can be difficult to treat, so if they pose no problems, they are usually monitored over time. If they cause complications, such as bleeding, pain, deformity or other harm, Dr. Levitin and his team can offer several treatment options.
Sclerotherapy injects the offending veins with a chemical that causes them to shrink. Surgery can remove the malformation, but this is only used when they threaten life or bodily functions. Wearing a compression garment, medication and laser therapy are other possible treatments. Dr. Levitin may recommend combining any number of these treatments to achieve the desired results.
If your child has been diagnosed with a Venous Malformation, or you notice a suspicious, bruise-like spot on your child that doesn't fade over time, schedule an exam and consultation with the Vascular Birthmark Center.
Posted on behalf of The Vascular Birthmark Center: Gregory M. Levitin, MD
200 W. 57th St., Suite 1410
New York, NY 10019
Phone: (212) 316-0616