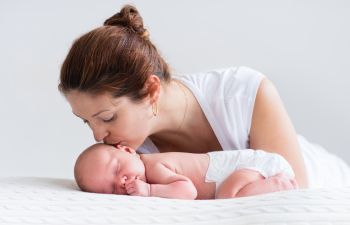 Receiving the news that your baby has been diagnosed with a rare congenital disorder can be alarming. Suddenly, the future looks daunting and filled with uncertainty. While Klippel–Trenaunay Syndrome (KTS) is rare, it can be managed, and your healthcare team will do everything possible to help prevent complications.
KTS involves irregular development of the blood vessel, skin, muscles, bones and lymphatic system. A red birthmark, generally called a port-wine stain, along with overgrowth of tissues, vein malformations and bone overgrowth are signs. There may or may not be lymphatic abnormalities as well.
Be Aware of Complications
Babies who are born with KTS are usually diagnosed at birth. Accurate diagnosis is important. When KTS has been confirmed, it is important to get the necessary care to address any symptoms and prevent complications.
Problems can develop due to the abnormal development of the blood vessels, bones, soft tissues and lymphatic system. Bleeding from thickened port-wine stain areas is possible. Vein malformations can cause various problems, some of which may be painful. Bone overgrowth can also lead to complications in some instances. Lymphedema, a buildup of fluid, can cause swelling in the arms or legs. Your doctor will advise you of which symptoms to be aware.
Working with Your Child's Healthcare Team
Because KTS can involve more than one system in the body, the health care team will most likely include specialists from various fields of medicine. Together, you and the team will develop the best treatment plan for your child.
A partial list of treatments includes physical therapy, compression therapy, orthopedic devices, laser ablation of veins, surgery and medication. Your child may require one of these or some other type of care. Treatment modalities will depend on the type of complication needing to be addressed. It is crucial for you to keep appointments and follow the doctor's recommendations. If you notice any changes, you should notify your doctor.
Getting Support
KTS can be a challenging condition; however, you have the support of your health care team, and there are advocacy and support groups to provide additional encouragement, resources and information. Remember, you do not have to embark on this journey alone.
The Vascular Birthmark Center has expertise and experience working with KTS patients. Contact us for a consultation appointment for more information about this rare condition.
Posted on behalf of The Vascular Birthmark Center: Gregory M. Levitin, MD
200 W. 57th St., Suite 1410
New York, NY 10019
Phone: (212) 316-0616