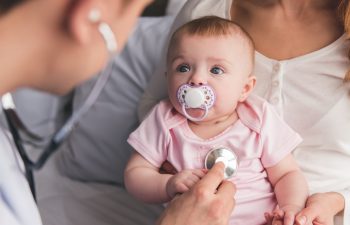 Birthmarks are popular topics in historical lore, ancient fables and even some pagan religions. Many of these tales connect a birthmark with a former life or an event in a former life, certain activities of the mother while pregnant and even specific characteristics stemming from astronomical influences. You may or may not have heard of the more popular fables concerning birthmarks; here we reveal some common rumors – and a few uncommon ones.
What Does Your Birthmark Mean?
Can birthmarks foretell the future? Or who a child will become? Did your mother "mark" you by engaging in specific activities while pregnant? Here are some of the most common birthmark fables.
Mothers and birthmarks are often connected in old wives' tales. Here are some we've heard:

Walking on plowed ground while pregnant causes a "mark" or birthmark on the baby.
Eating certain foods while pregnant causes specific types of birthmarks on a baby; like eating strawberries leaves a "strawberry" birthmark. Other popular foods said to leave a birthmark are coffee and chocolate.
Looking at a snake while pregnant leaves a "mark" when the baby is born.
Scratching an area on the body while pregnant means the child will develop a birthmark on that spot.

A birthmark on your right foot means you will prefer to travel.
A birthmark on the back signals open-mindedness.
If a pregnant mother looks at a rabbit, the baby will have a "hare-lip" or cleft palate.
Specific birthmarks can denote a child's spirit animal.
A birthmark can indicate how a person died in a former life.
A birthmark on the left foot indicates extreme intelligence.
A birthmark on the tummy indicates greed.
In earlier centuries, birthmarks were thought to indicate royal blood.
Some cultures believe a birthmark is lucky and that luck can be shared by touching the person on their birthmark.
What Is the Truth About Birthmarks?
The truth is, none of those fables listed above contain even a grain of truth. In fact, many specialists believe that a child's birthmark actually forms well before they are born, very early in development. Birthmarks are mostly a result of genetics and have nothing to do with the mother's behavior while carrying her child, a past life or your royal heritage.
The specialists at The Vascular Birthmark Center can examine your child's birthmark if you have concerns about its aesthetic impact or other problems. Our team includes some of the foremost birthmark experts in the world, and we can provide scientific answers and recommend effective treatments when they are required.
If your child has a concerning birthmark, contact our office in New York City to schedule an exam and consultation.
Posted on behalf of The Vascular Birthmark Center: Gregory M. Levitin, MD
200 W. 57th St., Suite 1410
New York, NY 10019
Phone: (212) 316-0616