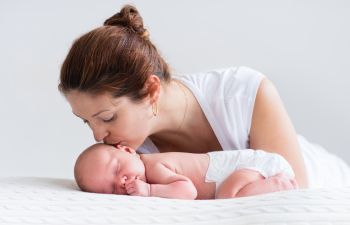 Your little bundle of joy comes into the world perfect with ten tiny toes and sweet, delicate little hands. Everything is perfect – except for that big discolored mark on your baby's skin. It could be anywhere on your baby's body; and the fact that it is there sends your mind reeling with concern. Take a deep breath and know that answers are forthcoming.
Birthmarks Are Common
More than ten percent of all babies born will have a birthmark either at birth or within the first two years of life. There are many types and they present in a variety of colors, shapes and sizes. They can be textured or smooth, on top of the skin or underneath. Some fade with time, while other are permanent. In most instances, they are harmless.
Causes
Rest assured that you are not the cause of your baby's birthmark. They appear on some babies and not others. Nothing you did or did not do created this mark on your child. Sometimes they are inherited, but not usually, and skin trauma during childbirth is highly unlikely.
There are two main types of birthmarks. Those caused by the formation of wide blood vessels or too many blood vessels are called vascular birthmarks. The most common of these are macular stains, hemangiomas and port wine stains. The other type, pigmented birthmarks, are caused by an overgrowth of the cells that create color in the skin.
Taking Action
When you notice your baby has a birthmark, you should have it checked by the doctor. Identifying the type of birthmark will also determine to what degree it needs to be monitored, it at all. Bleeding, itching, pain at the site or infection are reasons to seek medical help. If there is bleeding, clean the area with soap and water and use a gauze bandage to apply pressure and hold until the bleeding stops. If the wound continues to bleed, seek medical help.
You doctor will advise you on what options you have. In many situations where the birthmark is not causing problems, parents may choose not to take any action. In some cases, parents may decide to have the birthmark removed.
The Vascular Birthmark Center can help you determine the best options for your child. We offer virtual visits. Contact us today for more information.
Posted on behalf of The Vascular Birthmark Center: Gregory M. Levitin, MD
200 W. 57th St., Suite 1410
New York, NY 10019
Phone: (212) 316-0616