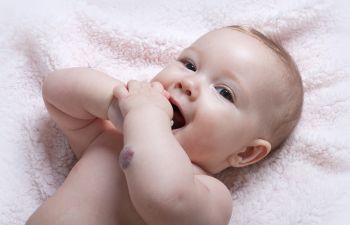 You're holding your precious newborn bundle of joy in your arms, perhaps after feeding, changing a diaper or a bath, and you notice some kind of mark on his or her skin. Was that here before? Could it be a birthmark? With all the information at our fingertips in this digital age, many new parents may have already read about terrible birthmarks or lesions that develop on the skin and cause disfigurement or other complications. First-time parents may be especially nervous if they spot a new spot in a spot that had no spots before!
What are Birthmarks?
Don't get excited over a birthmark. While most babies are either born with some type of birthmark or develop one shortly after birth, a relatively low percentage of them are a type that can cause complications. Physicians and researchers are not sure what causes birthmarks to develop, and there is no way to prevent them from occurring. You did nothing during your pregnancy that can likely be traced to a birthmark. Some genetic factors are often present, as some birthmarks seem to run in families.
Birthmarks can be flat or raised, have regular or irregular borders and have different shades of coloring that span the spectrum from dark to light. Most birthmarks are harmless and many even go away on their own or shrink over time. It is impossible for the untrained eye to determine what type of birthmark is present on your baby, so it is always wise to show it to your doctor at your earliest convenience.
When Should I See a Specialist for My Baby's Birthmark?
The American Academy of Pediatrics and other leading pediatric authorities recommend that all children with a vascular birthmark detected at either the 4-week or 8-week checkup be referred to a vascular birthmark specialist. If your baby's doctor suspects a need for further evaluation, you should contact us at The Vascular Birthmark Center in New York for an exam and consultation.
Dr. Gregory Levitin is a world-renowned specialist that provides personalized treatment for every patient. Each vascular birthmark is unique, regardless of type, just as every child is unique. He and our team of specialists can tailor a customized approach to provide the best possible care for your child.
Dr. Levitin can perform any necessary examinations or testing to diagnose the type and severity of a birthmark, and determine if any treatment or concern is warranted. Certain vascular birthmarks are typically more serious than others and pose a health concern. These can include:
Moles that grow in problematic areas
Hemangiomas
Port Wine Stains
Kaposiform hemangioendothelioma (KHE)
Neurofibromatosis
The specialist team at the Vascular Birthmark Center can provide advanced diagnosis and treatments when necessary for these and other types of birthmarks. Before becoming overly concerned about your baby's birthmark, consult with your baby's doctor. If they or you have cause for concern, contact us by phone or online to arrange a consultation. We also provide telehealth appointments for your convenience.
Posted on behalf of The Vascular Birthmark Center: Gregory M. Levitin, MD
200 W. 57th St., Suite 1410
New York, NY 10019
Phone: (212) 316-0616