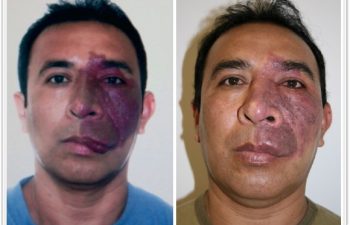 Port wine stains are a type of vascular birthmark. They resemble the spillage of red or purple colored wine, hence the name.
What causes port wine stains?
Port wine stains are vascular, which mean they are related to your skin's blood vessels. They are not preventable and have nothing to do with what a mother does or does not do during pregnancy. They are caused by the abnormal formation of small blood vessels in your skin.
Can a port wine stain indicate a more serious problem?
In few cases, a port-wine stain can be a sign of Sturge-Weber syndrome or Klippel-Trenaunay-Weber Syndrome. According to The New England Journal of Medicine, "scientists say a single random change to a single gene after conception causes both the birthmarks, which affect about one in 300 babies, and Sturge-Weber Syndrome, which occurs in about one in 20,000 births."
Where are Port wine stains usually located?
A Port wine stain can be anywhere on your body. They are most commonly found on the face, upper trunk, neck, scalp, arms or legs. They vary in size and typically grow in proportion with a child. When a stain ages it usually turns from a light pink color to a deeper, darker red or purplish color. They also may change texture over time, going from smooth and flat to thick and rough.
Will my Port wine stain go away?
A Port wine stain will not go away or disappear on its own. However, they can be treated. Our team at Vascular Birthmark Center will perform a consultation to formulate a treatment plan to remove your port wine stain. Contact our Vascular Birthmark Center today.
Posted on behalf of The Vascular Birthmark Center: Gregory M. Levitin, MD
200 W. 57th St., Suite 1410
New York, NY 10019
Phone: (212) 316-0616