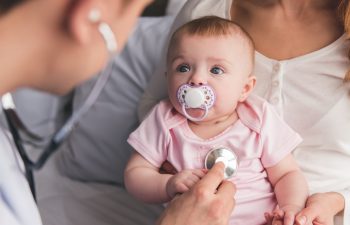 As a disorder of the blood vessels, Hereditary Hemorrhagic Telangiectasia (HHT), which is also known as Osler-Weber-Rendu Syndrome classifies the malformation in the vessels that connect the arteries to the capillaries. As its name implies, HHT is genetic in nature, yet its severity varies widely from person to person. This depends on which blood vessels are affected (small or large), though an individual may experience HHT in small or large vessels. While most cases of HHT are not life threatening, effective management of its symptoms is important to avoid serious complications such as excessive bleeding in the digestive tract, cirrhosis of the liver and an increased risk of stroke.
The Mayo Clinic lists the following signs and symptoms of HHT:
Nosebleeds
Lacy red vessels (talangiectases), particularly on the lips and in the mouth, but can be on the fingers and nose
Blood in the stool
Iron deficiency anemia
Given that HHT is an autosomal dominant disorder, if a parent has HHT, there's a 50% chance that their child will also have the disorder. Yet, a proper diagnosis considers other criteria as well. Along with the signs listed above, a physician may look for internal telangiectases on the lungs, brain, spine, digestive tract or liver. Thus, a CT scan, ultrasound or MRI might be performed to study blood flow (especially arteriovenous malformations, AVMs) and determine the severity of HHT.
The Vascular Birthmark Center explains that severe cases of HHT and Osler-Weber-Rendu Syndrome could require a patient to have a blood transfusion. In this case, if bleeding is localized in the skin, laser therapy can be used to treat the affected areas. On the other hand, if AVMs are detected, an embolization is often recommended to block abnormal blood vessels and reduce a patient's risk of heart damage from unregulated blood flow that has placed added pressure on the heart.
If you have symptoms that you believe are linked to HHT and/or Osler-Weber-Rendu Syndrome, you should know that obtaining the right diagnosis is critical. The Vascular Birthmark Center is well equipped to assess patients of all ages wishing to pursue a diagnosis and receive treatment. Call today!
Posted on behalf of The Vascular Birthmark Center: Gregory M. Levitin, MD
200 W. 57th St., Suite 1410
New York, NY 10019
Phone: (212) 316-0616