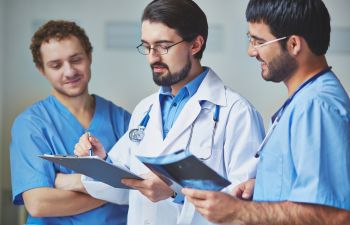 A Kaposiform Hemangioendothelioma (KHE) is a non-malignant tumor that is made from a grouping of blood vessels. This type of vascular tumor typically forms just under the skin. However, they can also develop near or even inside some internal organs, or inside the abdominal cavity, where they can pose significant risks.
Dr. Gregory M. Levitin and the talented team at The Vascular Birthmark Center, with locations in New York City and Los Angeles, offer experienced diagnosis and treatment of this condition. If you suspect any type of vascular tumor at birth or shortly after, contact our offices to schedule an exam and consultation.
Common Signs and Treatments
When a Kaposiform Hemangioendothelioma (KHE) is present at birth, it will often appear as a raised and/or bruised area. The area around the tumor may also sweat more than usual or grow excessive hair. KHEs can develop anywhere on the torso, head, neck, arms or legs. You may also notice that the area becomes painful. A color change to dark brown or purple can indicate bleeding underneath the skin from the vessels that make up the tumor.
The team at The Vascular Birthmark Center will often recommend beginning with medication-based treatments if the tumor is not severe. Meds can improve clotting and reduce the size of the tumor. Other medications can be used if complications arise. Surgery to remove the KMS tumor is also an option, depending on its location.
What About Kasselbach¬Merritt Syndrome (KMS)?
Kasselbach¬Merritt Syndrome (KMS) is a condition that can sometimes result from a Kaposiform Hemangioendothelioma. This is a serious complication that causes rapid growth of the KHE tumor. It can also hinder the blood's ability to clot, cause low red cell counts and even cause blockages to normal blood flow. KMS warrants serious and immediate treatment by a vascular specialist to prevent worsening symptoms and complications.
If your child has been given a diagnosis of Kaposiform Hemangioendothelioma (KHE), or you suspect the formation of a vascular tumor, contact the specialist team at The Vascular Birthmark Center in New York or Los Angeles. Our team has extensive training and experience with these types of vascular tumors and we can provide advice and advanced treatment.
Posted on behalf of The Vascular Birthmark Center: Gregory M. Levitin, MD
200 W. 57th St., Suite 1410
New York, NY 10019
Phone: (212) 316-0616