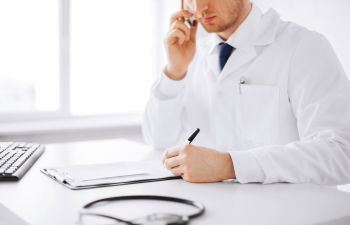 Enlarged veins can cause stretch marks and create dark purple lesions across the face. If untreated, these vascular malformations can cause serious problems with breathing or seeing. YAG Laser Therapy is a safe and effective treatment used to reduce the appearance of these vascular birthmarks. Here is everything you should know about this treatment.
What is YAG Laser Therapy?
A yttrium aluminum garnet (YAG) is a crystal placed inside a laser. The crystal creates an infrared light to reduce the blue or purple color of vascular malformations in the mouth and on the skin's surface. The size and texture can also be altered to help restore a person's appearance.
YAG laser therapy does not damage surrounding skin tissue and is only absorbed by areas with extra pigment. The physical sensation from the laser is similar to small flicks from a rubber band to the skin. An anesthetic cream can be applied before treatment to help minimize any discomfort. After the laser treatment, there may be some redness or swelling. Detailed information for recovery will be given after the procedure.
When to Consider YAG Laser Therapy
YAG laser therapy can be used to remove birthmarks and other vascular malformations in young children. A consultation with a birthmark specialist should be made as soon as a vascular formation is suspected. Medical observation and management are necessary to help prevent disfigurement, painful swelling and issues with facial functions.
Schedule a Consultation
Vascular malformations can affect a person's self-esteem and confidence. YAG laser therapy can help reduce these embarrassing birthmarks to help you feel better about the way you look. Seek treatment today by scheduling an appointment with Dr. Gregory Levitan here at the Vascular Birthmark Center. Dr Levitin specializes in the treatment of vascular formations in both children and adults. Book your consultation today!
Posted on behalf of The Vascular Birthmark Center: Gregory M. Levitin, MD
200 W. 57th St., Suite 1410
New York, NY 10019
Phone: (212) 316-0616