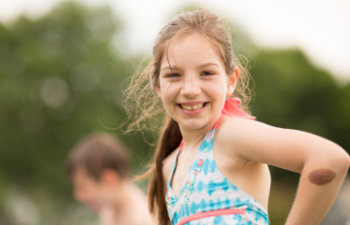 As a parent or caregiver, seeing your child with a significant birthmark can be a source of concern and stress. In some cases where a birthmark is affecting your child's confidence or quality of life, surgery may be an option worth considering. It is understandable to want to improve your child's appearance, help them feel more confident and improve functional considerations. Surgical intervention for birthmarks can provide a solution, and it is important to consult a specialist when determining if surgery is the right choice for your child.
There Are Different Reasons for Surgical Interventions
There are many types of birthmarks, ranging from small spots to larger, more noticeable marks. Some birthmarks may fade over time, while others may remain or even grow. By consulting with a specialist, you can determine if the birthmark should be removed for non-cosmetic reasons, and you can also discuss the benefits of cosmetic removal.
Surgical birthmark removal involves a procedure that is typically performed by a board-certified otolaryngologist-head and neck surgeon. Depending on the type and size of the birthmark, the procedure may involve local or general anesthesia. During the procedure, the surgeon will remove the birthmark and work to minimize scarring.
If you are considering surgical intervention for your child's birthmark, it's crucial to consult with a board-certified otolaryngologist-head and neck surgeon. These professionals have specialized training and expertise in treating conditions of the head and neck, including birthmarks.
Consult a Board-Certified Otolaryngologist-Head and Neck Surgeon
During a consultation, the surgeon can assess your child's birthmark and discuss the available treatment options, including surgery. Ultimately, the decision to pursue surgery is up to you as the parent, but consulting with a qualified surgeon can help you make an informed decision and ensure the best possible outcome for your child.
Dr. Levitin is a highly qualified surgeon offering specialized care at The Vascular Birthmark Center. He and his team can help guide you in making an informed decision to achieve the best possible outcome for your child. Do not hesitate to contact us today to schedule a consultation.
Posted on behalf of The Vascular Birthmark Center: Gregory M. Levitin, MD
200 W. 57th St., Suite 1410
New York, NY 10019
Phone: (212) 316-0616