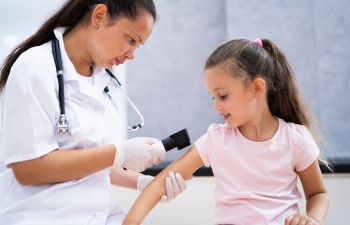 Moles, or nevi, are one of the most common birthmarks. Moles are generally common and can develop at any time of life. Moles that are present at birth are called congenital moles, and will last for your child's lifetime. Moles can be raised or flat, range in color from light tan to black and can even produce hair. Most moles are harmless, especially those present at birth.
Larger Congenital Nevi
Most congenital nevi are small, less than the diameter of a pencil eraser and pose little risk for turning into cancer. Although the risk is still low, large or giant congenital nevi are more likely to develop into skin cancer (melanoma) later in life. Regardless of their location, larger moles present at birth should be evaluated by a specialist.
Your provider at the Vascular Birthmark Center in New York may examine the mole and be content to watch and wait for any changes. If the mole is in a problematic location that could interfere with movement or bodily functions, he may recommend removal. Various methods of removal are available, and your provider can recommend the best method for your particular case.
Evaluating Moles for Cancer
You can keep a close watch on moles that pose any risk of eventually turning into skin cancer at home with a basic evaluation checklist. The following is the recommended means used by most dermatologists and specialists.
The ABCDE Method – If a mole begins showing any of these symptoms, you should schedule a professional evaluation at the Vascular Birthmark Center.
Asymmetry – One half of the mole does not match the other half
Border – The border or edges of the mole are ragged, blurred or irregular
Color – The mole has different colors or changes color
Diameter – The diameter of the mole is larger than the eraser of a pencil
Evolving – The mole changes in size, color or shape
Any question involving moles on yourself or your child should be directed to our specialists at the Vascular Birthmark Center in New York. Contact us to schedule an evaluation and consultation.
Posted on behalf of The Vascular Birthmark Center: Gregory M. Levitin, MD
200 W. 57th St., Suite 1410
New York, NY 10019
Phone: (212) 316-0616