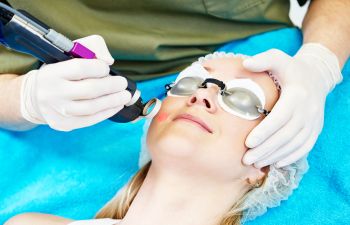 Though limited to superficial components in many cases, laser therapies can have a positive impact on vascular birthmarks by shrinking their overall size. From hemangiomas to port wine stains and other malformations, lasers offer an advantage to clinicians and patients in that they provide a versatile course of treatment with different ranges, wavelengths and penetration. This is good news, considering that the prognosis of vascular birthmarks varies greatly among patients. For children, in particular, removing vascular lesions early in life is important to avoid certain psychological or physical complications later in life. Dr. Greg Levitin at the Vascular Birthmark Center utilizes a variety of lasers for the treatment of vascular birthmarks and anomalies, helping prevent further progression.
When it comes to treatment for flat, superficial hemangiomas, pulsed dye lasers are effective in reducing redness, dilated capillaries (small blood vessels) and spider vessels (telangiectasia). For port wine stains and other complex indications related to Sturge-Weber Syndrome, pulsed dye laser treatment could stop the malformation from progressing. Early intervention using laser therapy can also preserve the collagen layer of skin that is often damaged by these lesions.
Targeting darkened pigments in the skin, the YAG laser effectively treats spider and thread veins, which may appear on the cheek, temporal region, nasal dorsum and forehead. The YAG laser has proved successful in restoring skin to normal color, while also restoring the texture of the affected tissues.
As one can imagine, combining laser therapies with other methods is sometimes necessary to manage and control difficult lesions. An example is that of a lymphatic malformation that involves the mucous membranes inside the mouth. A Coblation therapy, pioneered by Dr. Levitin, is a more refined technique that often results in fewer procedures and better control over time. Furthermore, the Candela VBeam Perfecta pulsed-dye laser is an innovative application for both pigmented and non-pigmented vascular lesions.
Dr. Greg Levitin – Renowned Specialist in the Treatment of Vascular Birthmarks
As a renowned specialist in the treatment of vascular birthmarks and malformations, Dr. Greg Levitin provides patients of all ages with options when it comes to the treatment of vascular anomalies. When patients consult with Dr. Levitin, they can expect a personalized protocol that combines the safest, most advanced techniques available.
To schedule an appointment with Dr. Levitin at the Vascular Birthmark Center, call today!
Posted on behalf of The Vascular Birthmark Center: Gregory M. Levitin, MD
200 W. 57th St., Suite 1410
New York, NY 10019
Phone: (212) 316-0616