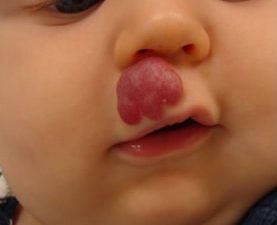 Birthmarks are common and usually appear either at or within a few weeks of birth. These marks can appear anywhere on the body and vary in appearance. Some disappear over time, but some remain with us throughout our lifetimes.
Birthmark Types
Birthmarks fall into two categories: vascular and pigmented. In vascular birthmarks, blood vessels do not develop normally and can cause vessels to cluster into one area. These include salmon patches that occur between the eyes or on the eyelids, hemangiomas or port wine stains. Pigmented birthmarks occur when there is more pigment in one area of your skin. Pigmented birthmarks include moles, Mongolian spots and café au lait spots.
Laser Birthmark Removal
Birthmarks can be small and, depending on placement, may not require removal. If your birthmark is in a noticeable spot, however, it can cause you to develop a low self-esteem. Some birthmarks, such as moles or hemangiomas, could lead to an increase in skin cancer and should be removed.
Laser therapy is an effective treatment for certain kinds of birthmarks, and the results are impressive. Patients can expect to see between a 70-90% reduction in birthmark visibility with laser treatment. The pain and recovery time is minimal, and the treatment can be repeated every one to three months. Expect to feel slight discomfort during the healing process, much like a light sunburn. It is important to avoid sunlight after treatment and to allow the skin to heal completely between treatments.
Birthmarks can range from annoying to life-threatening. It is important to have your or your child's birthmark evaluated to minimize any associated health risks. Dr. Gregory Levitin and the team at The Vascular Birthmark Center of New York have the experience necessary to properly identify your birthmark and recommend the appropriate treatment regimen. Contact us today to schedule your consultation.
Posted on behalf of The Vascular Birthmark Center: Gregory M. Levitin, MD
200 W. 57th St., Suite 1410
New York, NY 10019
Phone: (212) 316-0616