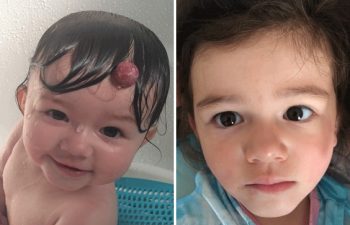 The lymphatic system is an important part of our immune system. It is a complex network of tubes that transport a watery fluid called lymph throughout the body. Lymph passes through a network of lymph nodes that help the body remove sources of infection. Clusters of lymph nodes are found throughout the body, primarily in the neck, under both arms, at the elbows, in the chest, abdomen and groin.
Lymphatic malformations are non-malignant masses of fluid, that appear as spongy, soft balloons of tissue. These malformations are rare and usually present anywhere from birth to two years old. They can develop anywhere on the body, but are most commonly seen on the neck and head. Some lymphatic malformations can be quite large, but regardless of their size, they have the potential of causing functional impairment and disfigurement.
Symptoms and Treatment of Lymphatic Malformations
Initial symptoms of lymphatic malformations can vary depending on the type, but the most common are bubble-like masses that grow slowly as the child grows. Growth is typically slow, but certain factors can speed growth, such as hemorrhaging into the malformation. Another common symptom is a slight but growing impairment in a nearby organ or system, due to the malformation putting pressure on nerves or other tissues.
Treating lymphatic malformations is handled in a variety of ways, including laser therapy, surgery, radiofrequency ablation and percutaneous drainage, or even a combination of these treatments. When exploring treatment options, age of the child, the size of the malformation and its location, symptoms and the child's overall health are important considerations. Only a qualified and highly-experienced specialist can make a proper diagnosis and design a treatment plan.
Experienced and Compassionate Treatment for Your Child
Dr. Gregory Levitin of the Vascular Birthmark Center is a board-certified Otolaryngologist-Head and Neck Surgeon and a Fellow of the American Academy of Otolaryngology-Head and Neck Surgery. Dr. Levitin knows the pain of having a child who needs treatment for a serious malformation firsthand. One of his twin daughters was diagnosed with a large hemangioma that required medical and laser therapy, and ultimately surgical treatment. He knows the anxiety you feel as a parent.
Dr. Levitin will work closely with each patient and their parents to design and implement a customized treatment strategy that combines the safest and most effective techniques. He believes in using the most minimally invasive techniques possible as a first resort. During your child's examination and his consultation with you, Dr. Levitin will explain your child's condition along with all the risks and benefits of any proposed treatment options.
For more information about the diagnosis and treatment of lymphatic malformations, contact the Vascular Birthmark Center today to schedule an appointment at either of our locations.
Posted on behalf of The Vascular Birthmark Center: Gregory M. Levitin, MD
200 W. 57th St., Suite 1410
New York, NY 10019
Phone: (212) 316-0616