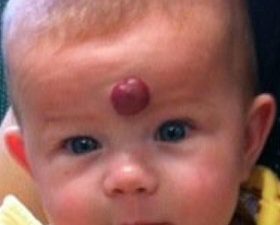 Hemangiomas may be evident on your baby's skin at birth or in the first few months afterward. These birthmarks are usually of no particular concern unless they are located in areas that may cause functional issues. About 60% of hemangiomas appear on the head or neck, and they seem to occur about three times more often in females.
Three Phases of Infantile Hemangiomas
There are three distinct phases that infantile hemangiomas go through. Each phase has its own distinct characteristics:
Proliferation – rapid growth and sometimes ulceration or skin breakdown
Plateau – the hemangioma stabilizes and changes little
Involution – color changes as well as changes to the consistency and a reduction in size
It is during the proliferation phase that a medical doctor or specialist may recommend some medical treatment if the hemangioma presents difficulties, such as affecting the sense of sight, smell, functional issues or a problematic breakdown of the skin, usually with ulcers.
Recommended Medical Treatment of Hemangiomas
The most common medical treatment that may be recommended is a beta blocker. These drugs are approved by the USDA to treat proliferating infantile hemangiomas. The vascular birthmark specialists at The Vascular Birthmark Center of New York often prescribe a particular beta blocker called Hemangeol, also sometimes called propranolol hydrochloride.
This medical treatment is given orally through a specially-designed syringe, usually at or just after feeding. The oral solution can be started at about five weeks of age. This treatment has been proven to cause hemangiomas to shrink. In fact, infant patients can expect a nearly complete or complete resolution of the hemangioma in about 60% of cases. Moreover, Dr. Levitin at The Vascular Birthmark Center of New York has seen a full 88% of patients show substantial improvement with this treatment in just five weeks.
If your newborn shows signs of a hemangioma, contact Dr. Levitin at The Vascular Birthmark Center of New York for an examination and consultation. He and his team can help you with information and advanced treatment options when necessary.
Posted on behalf of The Vascular Birthmark Center: Gregory M. Levitin, MD
200 W. 57th St., Suite 1410
New York, NY 10019
Phone: (212) 316-0616