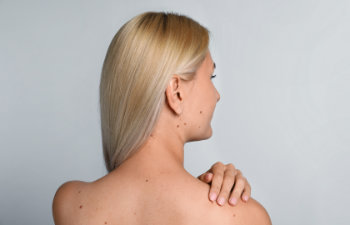 One of the advanced treatment options for vascular birthmarks offered at The Vascular Birthmark Center of New York is the Pulsed-Dye Laser. As a renowned birthmark specialist, Dr. Gregory Levitin uses this technology to treat various types of birthmarks for quick, pain-free and effective reduction of colors, removal of "spider veins," fading of port wine stains and extensive rosacea and more.
Dr. Levitin can recommend Pulsed-Dye Laser Therapy or another effective treatment regimen for your particular birthmark after a detailed examination and consultation at his New York office. Contact The Vascular Birthmark Center of New York for more information and scheduling.
What to Expect from Pulsed-Dye Laser Therapy
During a Pulsed-Dye Laser Therapy treatment, the bright light of the laser is absorbed by abnormal blood vessels that make up your birthmark. The intense light creates heat within the skin that destroys these blood vessels, but you feel no pain. Most patients describe the sensation as that of snapping a rubber band against the skin – more startling than painful.
The number of "pulses" per treatment, and the number of treatments, is determined by Dr. Levitin according to your particular birthmark. Some birthmarks will require more treatments over time. You may also require more laser therapy treatments at regular intervals to prevent progression or recurrence.
Pulsed-Dye Laser Therapy has minimal side effects, namely, some bruising and occasional pigmentation changes that are temporary. Dr. Levitin will provide you with instructions for caring for your skin, including using sunscreen and regular moisturizer applications daily to keep your skin healthy.
Expert Birthmark Care in New York
Advanced Pulsed-Dye Laser Therapy is just one way that Dr. Levitin can treat you or your child's vascular birthmark. Call today and schedule an exam and consultation to discuss your birthmark and how Pulsed-Dye Laser Therapy treatments could help you achieve the results you desire. The Pulsed-Dye Laser is but one laser option we offer, and Dr. Levitin can explain more of the uses and benefits of each in a confidential consultation at our office. Contact us today for expert birthmark care in New York from a renowned birthmark care specialist.
Posted on behalf of The Vascular Birthmark Center: Gregory M. Levitin, MD
200 W. 57th St., Suite 1410
New York, NY 10019
Phone: (212) 316-0616