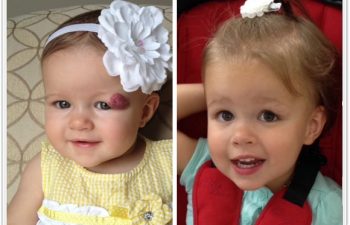 About one in ten babies have or develop some type of birthmark. Some birthmarks can be seen when the baby is born while others may develop within the first one or two years of life. There are common types of birthmarks like the salmon patch which occur frequently. Vascular birthmarks like hemangiomas are also common, occurring in about 5-10% of newborns. Less common are port-wine stains.
Most birthmarks are rather ordinary. Many of the common types appear as flat discolorations of skin. Some of these will disappear as the child grows older. The less common birthmarks must be monitored because they can sometimes lead to more serious conditions.
Conditions Associated with Port-wine Stains
This type of birthmark is permanent, and it appears as a flat mark ranging in color from pink to purple. It can become thicker over time, and occasionally these types of birthmarks will develop raised bumps and ridges, giving it a "cobblestone" appearance. Most of these birthmarks appear on the head or neck but they can be present on any part of the body.
A port-wine stain around the eye increases the child's risk for glaucoma. Regular appointments with the ophthalmologist are recommended in order to monitor for glaucoma, which can lead to blindness if it is not treated.
Another rare condition which can develop is called Sturge-Weber syndrome. When the port-wine stain is on the scalp, forehead or around an eye, the child should be examined for this condition. Sometimes blood vessels over the surface of the brain can be involved. This can cause seizures.
Klippel Trenaunay syndrome is another potentially serious condition. This may be present if a large port-wine stain is present on the arm or leg. This condition involves extra growth of the affected limb and the development of varicose veins.
Making the Right Decision
The most important decision you can make for your child is to seek a highly qualified doctor who has familiarity with all types of vascular birthmarks. Such a physician will make an accurate diagnosis and recommend effective treatment.
Dr. Gregory Levitin has extensive knowledge with vascular birthmarks and years of experience treating the conditions associated with them. If you have questions about your baby's birthmark, contact the Vascular Birthmark Center and schedule a visit.
Posted on behalf of The Vascular Birthmark Center: Gregory M. Levitin, MD
200 W. 57th St., Suite 1410
New York, NY 10019
Phone: (212) 316-0616