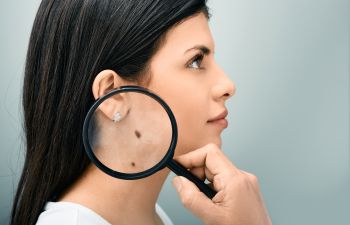 Moles, or nevi (singular is 'nevus'), are common, and most people have many, usually between 10 and 40. Nevi are concentrations of melanocytes, or pigment-producing cells, in your skin, Light-skinned people tend to develop more. Most moles emerge during childhood, although some babies are born with a few.
Moles are generally nothing to worry about, as most are non-cancerous and harmless. Moles you have had for some time are typically benign. But what about moles that develop as you age? Are they a cause for concern?
Types of Moles
Moles are primarily categorized by when they appear, what they look like and their risk of becoming cancerous.
Congenital nevi – often called birthmarks because they are present a birth.
Acquired nevi – these are common moles that appear after birth, and can appear at any time.
Atypical nevi – these also appear at any time, but they more closely resemble melanoma, a type of skin cancer.
When Moles Suddenly Appear
Researchers are not sure why moles suddenly appear later in life. Most that do are benign and occur likely because of age, prescription drug use, sunburn or extensive sun exposure and genetic mutations.
Any mole that appears and looks unordinary can be a cause for concern. New moles are more likely to become cancerous. A 2017 review of case studies found that 70.9% of melanomas arose from a new mole.
Use the ABCDE guide when evaluating new moles anywhere on your body:
A – asymmetrical shape
B – irregular borders
C – different colors or changes color
D – grows larger than ¼ inch in diameter
E – continues to evolve in size, color, thickness or shape
Any moles can be addressed by our birthmark specialists at the Vascular Birthmark Center. Some people prefer mole removal due to cosmetic reasons or because nevi are in a problematic area, such as the bend of an arm or where they can be easily snagged by clothing or jewelry.
Any mole that suddenly appears and causes you concern should be professionally evaluated. Early detection of moles that develop into skin cancer makes removal and treatment much easier. Contact the Vascular Birthmark Center for more information or to schedule a consultation about sudden developing nevi.
Posted on behalf of The Vascular Birthmark Center: Gregory M. Levitin, MD
200 W. 57th St., Suite 1410
New York, NY 10019
Phone: (212) 316-0616