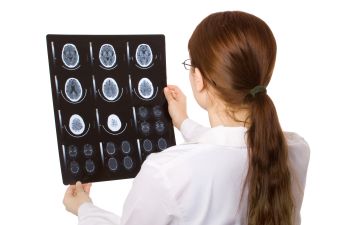 Chiari Malformation is a condition caused by an abnormally formed skull. The abnormality is excessive space at the lower back of the skull where the spinal cord passes through and into the brain. This extra open space allows brain tissue to extend into the spinal canal. Sometimes the malformation actually forces the brain to grow down into this canal. Other times, the brain merely responds to gradual pull due to gravity and droops into the canal.
This extension of brain tissue into the spinal canal can exert pressure on the brain, causing headaches, numbness in the extremities, balance problems, motor skill difficulties, trouble eating, swallowing, speaking or breathing. Most people with a Chiari Malformation suffer no ill effects. However, this is a progressive condition in many cases, meaning that adults may begin to experience ill effects as they age.
Diagnosing Chiari Malformation in Children
There is currently no test to determine if a child will have a Chiari Malformation before birth. However, sometimes the malformation can be detected during a pre-birth ultrasound. Most children born with a Chiari Malformation show no ill effects and the condition goes undetected. Certain birth defects are associated with CM, and so children born with those defects are also tested for CM using X-rays, ultrasound and MRI testing.
Treating Chiari Malformation
For those who exhibit no difficulties with CM, no treatment is recommended. Specialists may choose to monitor the area as the child grows with cognitive testing, motor skills testing and diagnostic imaging. Any slight effects from CM, such as headaches or other pain, may be treated with medications.
The only real treatment for Chiari Malformation is surgery. This "decompression" surgery, also known as a "decompressive suboccipital craniectomy and cervical laminectomy," removes a piece of the patient's skull at the base of the neck to allow more room for the brain tissue, thereby relieving any compression. This alleviates the symptoms and provides the patient with relief from pain. Most other symptoms may also be reduced or eliminated.
If your child has been diagnosed with Chiari Malformation, contact the Vascular Birthmark Center for a consultation and evaluation with Dr. Gregory Levitin.
Posted on behalf of The Vascular Birthmark Center: Gregory M. Levitin, MD
200 W. 57th St., Suite 1410
New York, NY 10019
Phone: (212) 316-0616