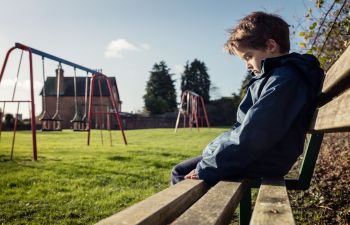 Children may experience several, long-lasting psychological issues related to having a vascular birthmark. The problems that children face are typically influenced by the size and type of lesion, along with how they are treated by others.
Studies have been conducted into the emotional impact on children with vascular birthmarks. The contributing factors that affect psychology are well documented and often inform medical treatment recommendations. For instance, reducing visibility or removing a lesion can have a positive impact on the general well-being of a child.
Lack of Confidence
Children with a vascular birthmark may lack confidence. A child who is bullied or teased because of a visible lesion will likely become self-conscious over time. Adults are also capable of cruelty and may treat the child differently, which only adds to a sense of worthlessness.
Anxiety & Stress
Certain events are often more stressful for children with vascular birthmarks. Meeting new people comes with stares and the potential for further bullying. Due to lack of confidence, some children may not want to participate in group activities. Social events cause anxiety and stress that can significantly impact mental health.
Depression
The myth that children cannot suffer from depression is unhealthy. When a child has been bullied, teased or left out of activities because of a vascular birthmark, it can result in depression. Children who become withdrawn, abandon personal interests, achieve lower-than-expected academic scores or practice poor self-care may be suffering from depression. Parents should look for these symptoms in children and provide emotional support.
Treatment for vascular birthmarks includes laser, medical and surgical procedures depending on the type of lesion and specific needs of the patient. Call the Vascular Birthmark Center to discuss specialist treatment to improve the appearance of a lesion. We are committed to providing the most effective treatment options for our patients.
Posted on behalf of The Vascular Birthmark Center: Gregory M. Levitin, MD
200 W. 57th St., Suite 1410
New York, NY 10019
Phone: (212) 316-0616