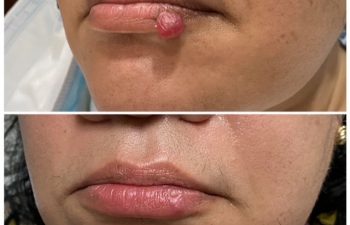 Pyogenic Granulomas are skin growths that contain a large concentration of blood vessels. Consequently, they usually appear reddish in color and can bleed. Mostly seen in children and young adults, small pyogenic granulomas can appear and disappear without treatment. When the lesion grows larger than two centimeters, bleeds frequently, disappears and reappears or appears in problematic areas, treatment is warranted.
Pyogenic Granulomas can sometimes be difficult to diagnose, but a correct diagnosis is crucial, as they can appear similar to some forms of cancer or skin cancer. True pyogenic granulomas are non-cancerous and pose no threat of cancer. The risks that require treatment are from the granuloma's bleeding or location. The Vascular Birthmark Center of New York can provide an accurate diagnosis and advanced treatment options for these and other types of vascular malformations.
When Should I Be Concerned About a Pyogenic Granuloma?
Pyogenic granulomas that appear and disappear pose no medical or aesthetic concern. Reappearing granulomas or granulomas that bleed usually warrant treatment to remove them and prevent another reoccurrence. Pyogenic granulomas can also appear in problematic areas and warrant removal. This can be in the corner of the eye, causing sight issues or problems with eyelid function. They can also appear in the mouth – these usually bleed more than normal.
Other problem areas can be in between the fingers or toes or in the bend of arms or legs. Constant movement or clothing friction can cause excessive irritation and bleeding, and a higher risk of infection. Your vascular malformation specialist at Vascular Birthmark Center of New York can recommend when treatment is necessary, and offer options for treatment or removal.
What Are My Treatment Options?
At the Vascular Birthmark Center of New York, we always seek to use the least invasive treatments possible as a first resort, and only progress to more invasive treatment methods when necessary. The pulsed dye laser is typically an effective treatment option for pyogenic granulomas. If the pulsed dye laser treatment is not effective, then surgery becomes a better option due to the risk of progression, bleeding, and disfigurement. Dr. Levitin will evaluate your pyogenic granuloma and make the best treatment recommendation for your circumstances.
Contact the Vascular Birthmark Center of New York to schedule an exam and consultation if you or your child develops any form of vascular malformation like a pyogenic granuloma. We offer advanced diagnosis and treatment in New York City.
Posted on behalf of The Vascular Birthmark Center: Gregory M. Levitin, MD
200 W. 57th St., Suite 1410
New York, NY 10019
Phone: (212) 316-0616