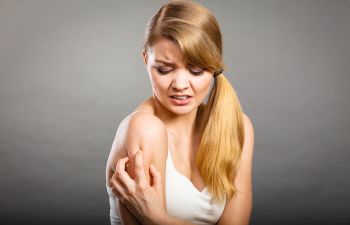 Did your mother ever tell you not to scratch a mole on your skin? The thought behind that warning is that scratching a mole could lead to cancer. While in fact, scratching a mole is not regarded as a way cancer develops, research has shown that there are reasons why you may not want to ignore Mom's advice.
Moles are not cancer; at the same time, they are not normal skin cells either. Moles are comprised of a collection of melanocytes – the skin cells that produce melanin. Melanin is the pigment that determines the color of your skin, grows darker with a suntan and produces the dark color of moles.
Melanocytes in moles have a mutation in a cancer-related gene that make them grow and multiply. This gene is called BRAF. In the vast majority of cases, they do not cause cancer but rather enter a state called quiescence, which is essentially a sleep-state.
A small percentage of moles will become cancerous, but why this happens is not yet known, although research is being conducted to determine the reason. So far, it seems as though inflammation in the surrounding tissue can trigger a group of abnormal cells into developing into a tumor.
The Real Reason Scratching a Mole is Bad
It is unlikely that scratching a mole will result in cancer. With that being said, scratching or picking at a mole can cause infection. The skin in the area can become injured, leading to an open wound. An open wound, even though very small, can become a breeding ground for bacteria. This, in turn, can lead to infection that could get serious. If you or your child have a mole that is worrisome, it is best to have it examined by a doctor.
Make an appointment to have your mole examined by Dr. Levine at the Vascular Birthmark Center. Schedule a consultation today!
Posted on behalf of The Vascular Birthmark Center: Gregory M. Levitin, MD
200 W. 57th St., Suite 1410
New York, NY 10019
Phone: (212) 316-0616