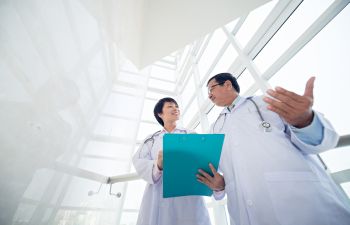 At the Vascular Birthmark Center of New York, our specialists provide the latest and most advanced treatments for vascular birthmarks and their varied complications. Medications and surgical treatments are often used to manage vascular birthmark conditions, but the most state-of-the-art laser therapies are also used. In many cases, our team uses laser therapies in combination with other treatments to obtain the best possible results.
Here is a brief overview of the different types of laser therapy we use to treat vascular birthmarks for our patients.
Pulsed-Dye Laser Treatment
Pulsed-Dye Laser Treatment is used for numerous types of vascular birthmarks. The most common examples include:
Flat, superficial hemangiomas – this therapy reduces redness and removes telangiectasias (spider vessels) from the skin.
Large or segmental hemangiomas – early laser therapy with medical therapy, can reverse vascular changes before serious complications occur.
Port-wine stains – this therapy stops progression and reverses color changes, and regular treatments are necessary.
YAG Laser Therapy
YAG Laser Therapy is particularly effective at reversing the dark purple coloring and rough texture on skin and mucus membranes in venous malformations, as well as reducing their size.
Coblation Therapy
Dr. Gregory Levitin has pioneered the use of Coblation Therapy to treat certain lymphatic malformations that generate lesions in the mucus membranes of the mouth and tongue. This is a type of Radio Frequency (RF) treatment that produces heat, similar to RF ablation techniques. His method reduces pain and provides better control of long-term symptoms.
Candela V-Beam Perfecta Pulsed-Dye Laser
The Candela VBeam Perfecta Pulsed-Dye Laser is one of the most effective tools at The Vascular Birthmark Center for treating vascular, pigmented and certain non-pigmented lesions. Dr. Levitin routinely uses this laser for effective treatment of:
Hemangiomas
Port-wine stains
Pyogenic granulomas
Spider angiomas
Each patient at The Vascular Birthmark Center of New York receives a completely individualized diagnosis and treatment plan to address their unique problems and conditions. Dr. Levitin and his team will discuss the various approaches with you and your family, including advanced laser treatments.
For more information about our laser treatments and other therapies, contact The Vascular Birthmark Center of New York today to schedule a consultation.
Posted on behalf of The Vascular Birthmark Center: Gregory M. Levitin, MD
200 W. 57th St., Suite 1410
New York, NY 10019
Phone: (212) 316-0616