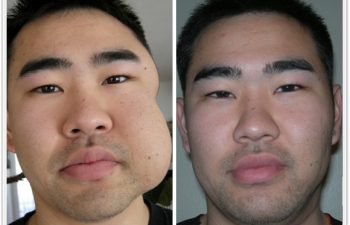 As a type of vascular malformation in which veins have developed abnormally, venous malformations(VM) can be painful and sensitive. Mount Sinai explains that a superficial VM often appears as a bluish discoloration, and it can be a single lesion or one of many (multifocal). In the same way, the VM might be superficial or deep, and appear as tiny dots or large disfigurations. Dr. Greg Levitin at the Vascular Birthmark Center is a specialist in the diagnosis of vascular birthmarks and tumors, with considerable expertise in determining effective, long-lasting treatment for venous malformations.
Consider the normal function of a blood vessel, which involves muscle cells that maintain the shape of the vessel. Essentially, these muscle cells allow the vessel to increase or enlarge in order to control blood pressure. A venous malformation lacks this crucial function, and blood flow cannot be regulated effectively. As such, damage often occurs within the lining of the vessel wall.
Because blood circulation is slow in a venous malformation, clotting is common, which can lead to calcification and the formation of vein stones. As a venous malformation fills up with blood, it causes swelling and inflammation because veins are abnormal. Swelling is worsened when the area is lower than the rest of the body or when blood pressure rises. In the same way, malformations expand due to age, injury or puberty.
Diagnosis and Treatment for Venous Malformation
Given the complexities of venous malformations, the most efficient treatment is obtained when a team of qualified specialists works together. Dr. Levitin and the team at Vascular Birthmark Center bring unique insight to the diagnosis and treatment of venous malformations, providing numerous options to patients and their families.
In some instances, a treatment plan includes dissolving blood clots with a managed dose of heparin, as well as regular blood testing to monitor progress. In turn, Sclerotherapy is a treatment regimen designed to shrink blood vessels, as well as targeted laser therapy and/or surgical methods for long-lasting relief.
To schedule a comprehensive evaluation, or to learn more about treatment options for venous malformations, contact The Vascular Birthmark Center today.
Posted on behalf of The Vascular Birthmark Center: Gregory M. Levitin, MD
200 W. 57th St., Suite 1410
New York, NY 10019
Phone: (212) 316-0616