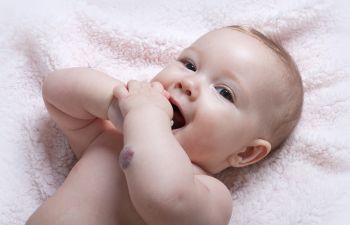 Mongolian Spots are bruise-like spots that get their name from a misguided early premise of their development. Early researchers believed only Mongols could get these dark blotches. Various other primitive cultures believed these marks were actual bruises from where an angry god actually slapped or "spanked" a child. Some even believed that a pregnant woman could "mark her baby" with these spots by working or walking on plowed ground.
Of course, all these theories are untrue. Modern science has discovered that small children of Native American, East Indian, Hispanic, Asian and African descent are more prone to develop Mongolian Spots. They are more prone to occur in those cultures with more melanin in the skin. There are absolutely no health risks with Mongolian Spots, and they are not the results of an injury. In fact, most babies will outgrow them within a few years.
In a few cases, some adults may still retain them and desire removal for cosmetic reasons. Since they only show up on the back or buttocks, they do not present a serious cosmetic concern.
Should I Be Concerned with Mongolian Spots?
Of course, any suspicious bruise-like marks on your newborn or small child should be examined by your doctor. At the very least, they should make a record of their presence and location, as this medical documentation can be helpful to refute accusations of child abuse. Preschool workers or others could mistake the marks as real bruises, and their location can raise suspicions. Fortunately, most children lose their Mongolian Spots by the age of five.
Other concerns can be a misdiagnosis for other medical conditions, like Hunter's syndrome, Hurler's disease or Niemann-Pick disease. These are all metabolic diseases that can resemble Mongolian Spots. However, there is no connection between them and very little concern that the spots will develop into a more serious disease. Again, medical documentation by a physician and regular monitoring at well-child visits can resolve any issues that arise with misunderstandings or a possible misdiagnosis.
Specialist Birthmark Care
If your child's physician is unsure about diagnosing marks as Mongolian Spots, Dr. Levitin and the team at Vascular Birthmark Center can examine your child and document their findings. As no treatment is needed, your visit with us will likely be brief. However, we are happy to answer your questions about Mongolian Spots or other types of birthmarks.
Contact the Vascular Birthmark Center in New York with your questions or concerns about infant birthmarks.
Posted on behalf of The Vascular Birthmark Center: Gregory M. Levitin, MD
200 W. 57th St., Suite 1410
New York, NY 10019
Phone: (212) 316-0616