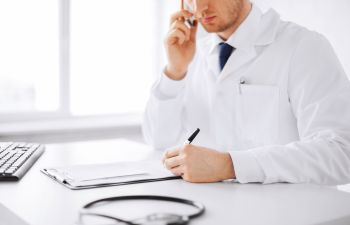 Capillary Malformations are a type of vascular malformation, meaning they are caused by an anomaly in veins or arteries. Capillary malformations (CM) appear in about 1 in 300 newborns, appearing as a patch of reddish or purple skin. Due to this, they are more commonly referred to as Port Wine Stains. CMs can appear anywhere on the body, but are most common on the neck or face. They are often light at birth, darkening in color over time.
Origin of Capillary Malformations
Capillary malformations are caused by small blood vessels (capillaries) near the surface of the skin that grow larger and darker as the child gets older. They do not fade or go away with time. Researchers now know that CMs develop in a child during early development in the womb and are likely caused by abnormal genetic factors. There is no activity or condition during pregnancy that is connected to the formation of capillary malformations.
Most CMs are merely cosmetic in nature and require no treatment. They may be treated with laser therapy to reduce their obvious visibility. In some rare cases, they can be a sign of an underlying complication or abnormality.
Possible Complications from Capillary Malformations
CMs that appear on the forehead or upper face may signal a condition known as Sturge-Weber Syndrome. This poses a significant risk for vision and/or brain issues. The specialists at The Vascular Birthmark Center will commonly perform eye exams and an EEG to determine any effects of this syndrome.
When capillary malformations appear on the body, mainly on the legs, they can indicate other underlying vascular conditions like lymphatic malformations, arteriovenous malformations or venous malformations. The team at The Vascular Birthmark Center will use MRI and CT imaging to view underneath the CM to determine the exact formation of blood vessels and any related bone complications.
Recommended treatments for capillary malformations or any underlying conditions will be tailored to the specific needs of your child. Dr. Gregory Levitin and his skilled team will explain the nature of your child's condition and any recommended treatments, so you have a complete understanding of all that is involved. Medical and surgical treatment options are both available.
Contact The Vascular Birthmark Center in New York or Los Angeles to schedule your appointment and consultation with Dr. Levitin.
Posted on behalf of The Vascular Birthmark Center: Gregory M. Levitin, MD
200 W. 57th St., Suite 1410
New York, NY 10019
Phone: (212) 316-0616