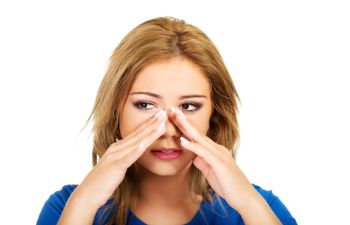 Hereditary hemorrhagic telangiectasia (HHT) is the scientific/medical term for a rare genetic blood vessel disorder more commonly known as Osler-Weber-Rendu Syndrome. The genetic connection means that this condition is inherited from family, although it can present in vastly different ways.
HHT, or Osler-Weber-Rendu syndrome, causes abnormal connections, called arteriovenous malformations or AVMs, to form between arteries and veins. Blood is then allowed to flow between vessels that ordinarily do not connect and can cause serious complications. These formations are most often found developing in the brain, lungs, liver and nose.
One of the most common features of this condition is sudden nosebleeds, often every day. Other areas of internal bleeding can also occur, causing anemia or other medical complications.
What are the Symptoms of HHT or Osler-Weber-Rendu Syndrome?
Family members who share this condition will often display different symptoms. This makes it difficult to accurately diagnose the condition, even if it runs in your family or extended family. As mentioned above, frequent, sometimes explosive, nosebleeds are a common symptom. Other symptoms can include, but not be limited to:
Shortness of breath
Headaches
Lacy red blood vessels or tiny red spots that are visible on the face, lips, tongue, fingertips and inside the mouth
Seizures
Anemia from iron deficiency
Accurately diagnosing HHT will require a careful review of your medical condition and history, as well as imaging tests that can include ultrasound, a bubble study, MRI and/or CT scanning to detect blood vessel abnormalities and blood flow irregularities.
Get an Accurate Diagnosis of Hereditary Hemorrhagic Telangiectasia in New York
This rare genetic condition is not something your primary care physician will see every day or be familiar with. They may treat frequent nosebleeds, which is usually the first symptom to appear, with other methods. If they persist, you may be referred to a specialist for evaluation. Dr. Gregory Levitin at the Vascular Birthmark Center is a renowned specialist who has wide experience with vascular malformations like HHT.
He can diagnose the condition and treat all the different aspects of the disorder to allow you or your child to live a normal life. Treatment protocols generally focus on reducing loss of blood, minimizing abnormal blood vessels and preventing possible complications.
If you have noticed any symptoms that could be associated with Osler-Weber-Rendu syndrome, or HHT, contact the Vascular Birthmark Center in New York to schedule an appointment and exam.
Posted on behalf of The Vascular Birthmark Center: Gregory M. Levitin, MD
200 W. 57th St., Suite 1410
New York, NY 10019
Phone: (212) 316-0616