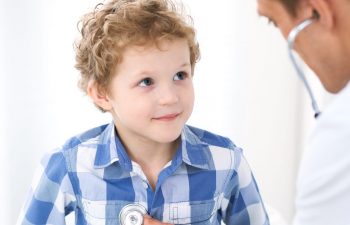 If your newborn has dark spots that look like bruises on the back and buttocks, do not panic. Most likely these are Mongolian spots. They can occur on any newborn, but are most common on those with more melanin. Babies of Asian, African, East Indian, Hispanic and Native American descent often have these spots. They look like bruises, but they are not painful, and they do not come from an injury.
Should You Be Concerned?
Your baby's doctor should evaluate the spots and record them in your child's health record. Since they look like bruises, a documented record of them can help avoid suspicion of child abuse. Most of these spots disappear on their own before the child reaches five years of age. Occasionally, a person may have this birthmark permanently. Your doctor will check on the spots during the baby's well-child visit.
Mongolian spots do not require any special treatment. They do not cause pain and are not problematic other than in appearance. Since they almost always appear on the back and buttocks, they do not cause a cosmetic issue either.
Rarely, large or widespread Mongolian spots have been associated with certain metabolic diseases. These include:
Hurler's disease
Hunter's syndrome
Niemann-Pick disease
Mucolipidosis
Mannosidosis
The link between these conditions and Mongolian spots is rare, however. In most cases, there is no concern when a baby has the spots.
Facts Regarding Mongolian Spots
The name for these spots was coined in 1885 by Edwin Baelz, a German Professor. Baelz believed that the only people who had these spots were non-Caucasian and Mongols. Statistics show that babies of Caucasian decent are less likely to have them, but some of them do. It seems that those of African decent are more likely to have them.
In some cultures, it was believed that the spots were a sign of a "spank" or slap from the gods or religious deities. Another common belief was that the spots appeared as a result from the mother working or doing something while pregnant.
There are no health risks with Mongolian spots and most babies will outgrown them in a few years. For those adults who still have them from childhood, they can seek removal if they choose.
At the Vascular Birthmark Center of New York, we care for children and adults with a wide variety of vascular birthmarks, including arteriovenous malformations, hemangiomas, lymphatic malformations, port wine stains and venous malformations. Contact us for more information or to schedule a consultation appointment.
Posted on behalf of The Vascular Birthmark Center: Gregory M. Levitin, MD
200 W. 57th St., Suite 1410
New York, NY 10019
Phone: (212) 316-0616