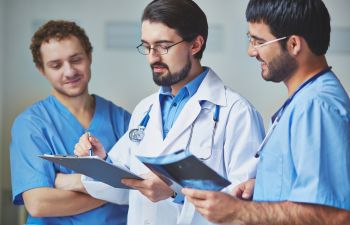 A discoloration that appears on a baby's skin at the time of birth or shortly thereafter is considered a birthmark. Very rarely are these anomalies cancerous. They are usually benign and can occur anywhere on the face or body.
Birthmarks are very diverse. They come in a range of colors, sizes, appearance and shapes. Some will fade away and disappear completely while others will last a lifetime. Some may be permanent and get larger as your child grows. There is usually no cause for alarm; however, certain birthmarks are often removed for cosmetic reasons.
Kaposiform Hemangioendothelioma
This anomaly looks similar to a birthmark, but it is not. Kaposiform Hemangioendothelioma (KHE) is actually a rare benign tumor. KHE is caused by the abnormal growth of blood vessels and it can appear anyplace on the body. These tumors are most often seen on the arms and legs, developing below the skin, but can show up in other places like the head and neck. KHE can also form inside. They have been found inside the abdomen, chest and on bones.
Diagnosis for Kaposiform Hemangioendothelioma
Many doctors are not familiar with KHE because it is so rare. It is also a complex condition that can develop serious complications. It is important that a doctor familiar with KHE examines your child and develops a treatment plan.
Diagnosing KHE may involve blood tests, biopsy of the tumor and MRI or CT imaging. Ultrasound scans may also be required for an accurate diagnosis. Proper diagnosis of the condition is critical because treatment is dependent on symptoms and the severity of the case. The risk for developing complications that can lead to life-threatening conditions is higher with children diagnosed with KHE.
While most vascular birthmarks are harmless, KHE is not a birthmark. Even though it is a benign tumor, it can lead to other problematic conditions. The Vascular Birthmark Center has expertise in treating KHE. Call us or reach out to us via our website and schedule a time for a consultation with one of our specialists.
Posted on behalf of The Vascular Birthmark Center: Gregory M. Levitin, MD
200 W. 57th St., Suite 1410
New York, NY 10019
Phone: (212) 316-0616