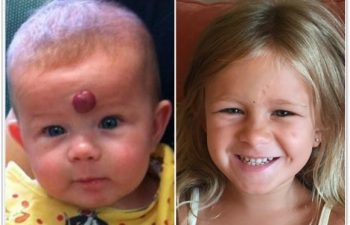 "The hardest part about parenting??? Witnessing your child go through something really tough and not being able to fix it." – Hot Moms Club
A hemangioma is a growth of blood cells that are benign in nature. They are the most common form of vascular tumor in children and can be a source of alarm for new parents. However, they usually grow for a short time and then they eventually reduce in size without the need for treatment.
While hemangiomas rarely have an affect on your child's health, they do have the ability to reach into the hearts of parents and the child. This is not a literal connection to the physical state of the heart, rather it relates to the emotional state of the heart.
The Emotional Impact Of A Hemangioma
According to Mental Help.net, "children start to develop a 'self-concept,' the attributes, abilities, attitudes and values that they believe define them. By age 3, children have developed their Categorical Self, which is a concrete way of viewing themselves in 'this or that' labels." For this reason, if your child is born with a mark on his face, it can become a part of his identity.
As children age, they may begin feeling embarrassed about the hemangioma part of their identity. Watching your child struggle with this is difficult for the parents as well. Dr. Greg Levitin is especially sensitive to the emotional impact a hemangioma has on families because his family experienced this as well. For this reason, he passionately pursued his career of helping families, like yours, deal with the physical and emotional impact of hemangiomas. Contact his Vascular Birthmark Center today to see how he can help your family.
Posted on behalf of The Vascular Birthmark Center: Gregory M. Levitin, MD
200 W. 57th St., Suite 1410
New York, NY 10019
Phone: (212) 316-0616