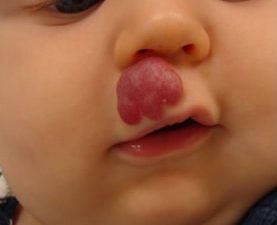 Many old wives' fables offer advice to prevent "marking a baby," or causing a birthmark, during pregnancy. Not walking on plowed ground, not looking at a snake and not getting too much sun exposure are some of the more popular recommendations. Of course, none of these things have anything to do with whether or not your baby will be born with a birthmark.
In fact, over 80% of newborns have some type of birthmark. Most are products of chance and pose no concern or medical threat whatsoever. But as a new parent, how do you know when to be concerned over a birthmark?
Types of Birthmarks
Birthmarks are typically different colored spots or areas on a baby's skin. They can be present at birth or appear shortly after. Their color and location can vary, and their size can range from small freckles to large areas. There is no way to predict whether or not your child will have a birthmark. You should take note of any abnormal print or colored spot on your baby and watch it over time for changes.
All birthmarks fall into two general categories. Pigmented birthmarks are formed from groupings of cells that control skin color. Vascular birthmarks are formed from groupings of blood vessels. Most often, your doctor can identify the type of birthmark found on your newborn and advise you of any potential concern. Your child's pediatrician can also offer counsel on any birthmarks and recommend any necessary special care.
Birthmarks that Pose a Threat
At the Vascular Birthmark Center of New York, we specialize in treating children and adults who have a vascular birthmark or condition. Our vascular experts can diagnose and treat most types of vascular birthmarks, including those on newborns and younger children when necessary.
Not every vascular birthmark poses a health concern. Some of the variations that can pose a threat include:
Hemangiomas – these collections of abnormal blood vessels can cause complications with nearby organs or structures and may require treatment.
Port Wine Stains – these collections of abnormal capillaries can form in areas where they affect bodily function, such as vision, or even cause seizures.
Kaposiform hemangioendothelioma (KHE) – these tumors of blood vessels form below the skin and can even develop within organs, causing significant problems with blood clotting and other complications.
Neurofibromatosis – these tumors form on nerve tissue and can become cancerous over time.
Nevi – or moles, often do not present a problem, but they can grow in areas that affect bodily structures and require removal.
If your pediatrician determines that your baby's birthmark warrants attention, the Vascular Birthmark Center of New York can provide advanced diagnosis and treatments when necessary. Contact us by phone or online to arrange a consultation. We also provide telehealth appointments. Ask about them when you call or message us today.
Posted on behalf of The Vascular Birthmark Center: Gregory M. Levitin, MD
200 W. 57th St., Suite 1410
New York, NY 10019
Phone: (212) 316-0616