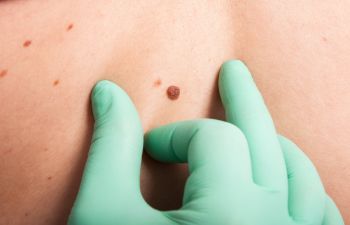 Moles are the most common form of nevi, and can be found anywhere on the body. They can vary in size, shape and color, and whether or not they present any problems. Mole removal can be accomplished through different techniques, and Dr. Gregory Levitin at Vascular Birthmark Center can recommend which approach would be best for you.
Why Do I Have a Mole?
Moles are caused when clusters of pigmented cells grow together. They generally appear when a person is quite young and can disappear over time or remain. The average person has between 10-40 moles on their body. The most common areas for moles are the face, shoulders, back, abdomen and arms; however, moles can grow anywhere, including between the toes or underneath fingernails.
Medical experts know how moles develop but not why. Most of these nevi are harmless and can be ignored. However, you should pay attention to moles that grow, change shape or size or otherwise become problematic. Monitoring moles can be an important way to detect the onset of skin cancer.
Reasons for Mole Removal
Most moles present no problems, unless they are raised and can get caught on clothing or jewelry. Other times moles may present an aesthetic issue due to their location. Moles that change or grow can increase the risk for developing cancer, and Dr. Levitin may recommend removing these moles as a preventive measure.
If you have questions about moles on your body, or if they cause you concern, call the Vascular Birthmark Center today to schedule a consultation with Dr. Levitin. He can examine your moles and determine if further testing or removal is warranted. If you desire mole removal for cosmetic reasons, speak with Dr. Levitin about this issue as well.
He and his talented team can remove nevi with a number of different techniques. Smaller nevi are generally easier to remove without scarring. Larger moles increase the risk of scarring. Speak with Dr. Levitin about the possible outcomes from removing your moles when you schedule a consultation at his clinics in New York or Los Angeles.
Posted on behalf of The Vascular Birthmark Center: Gregory M. Levitin, MD
200 W. 57th St., Suite 1410
New York, NY 10019
Phone: (212) 316-0616