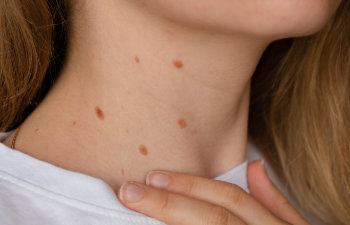 Regarding our skin, we must pay attention to any changes or irregularities. One common issue that many people face is the presence of nevi or moles. While most moles are harmless and don't require any treatment, there are certain cases where nevi removal may be necessary. The Specialists at the Vascular Birthmark Center can provide more information about moles and when you should have them removed.
Moles 101
It's essential to understand what nevi are and how they form. Nevi or moles are a type of skin lesion that can appear anywhere on the body. They are typically brown or black and can be raised or flat. Moles are caused by the clustering of pigment cells (melanocytes) in the skin, and they can be present at birth or develop over time. Most people have between 10-40 moles on their body, and while they are usually harmless, they can sometimes be a sign of skin cancer.
Reasons for Nevi Removal
There are several reasons why you might want to have a mole removed.
If a mole changes in size, shape or color, it could be a sign of melanoma, a type of skin cancer. If you notice any changes in your moles, seeing a specialist at the Vascular Birthmark Center is essential.
It may be worth removing if a mole is causing irritation or discomfort. For example, if a mole is located in an area that rubs against clothing or jewelry, it can become irritated and painful.
Removal may be worth considering if a mole is located in a prominent area affecting your self-confidence. Many people choose to have moles removed for cosmetic reasons, especially if they are large or found on the face. However, it's important to note that removing a mole for cosmetic reasons is considered an elective procedure and may not be covered by insurance.
Methods for Nevi Removal
Several methods can be used to remove moles, including excision, shave, and laser removal. The technique used will depend on the size and location of the mole, as well as the reason for removal. Excision involves cutting out the mole and stitching up the surrounding skin. Shave removal consists of using a scalpel to shave off the mole, while laser removal uses a laser to destroy the pigment cells in the mole.
After nevi removal, taking care of the wound is essential to prevent infection and scarring. Your Vascular Birthmark Center specialist will provide specific instructions on how to care for the area, but generally, you will need to keep the wound clean and covered until it has healed completely.
You might consider nevi removal for several reasons, including changes in the mole, discomfort or irritation and cosmetic reasons. If you decide to remove a mole, it's vital to have it evaluated by a specialist and follow their aftercare instructions. Always keep an eye on your skin and get any suspicious moles checked out by a medical professional.
Contact the Vascular Birthmark Center today if you are concerned about a suspicious mole or want to discuss nevi removal.
Posted on behalf of The Vascular Birthmark Center: Gregory M. Levitin, MD
200 W. 57th St., Suite 1410
New York, NY 10019
Phone: (212) 316-0616