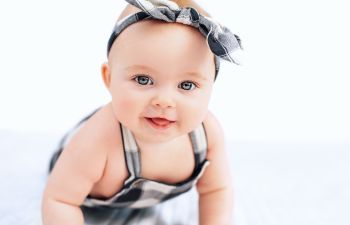 New parents tend to become concerned over many aspects of caring for their newborns, and this is completely understandable. After all, this is virgin territory, unexplored and unknown ground with a tiny new life involved. Our expert team at The Vascular Birthmark Center is often asked, "When should I worry about a birthmark?" It is a good question, and not one only asked by new parents.
Aren't Most Birthmarks Harmless?
Over 80% of newborn babies sport some type of birthmark. These can range from small freckles to larger pigmented areas or vascular formations. Color and location of birthmarks vary widely and there is no way to predict if your child will have a birthmark, regardless of the old wives' tales you may have heard.
Of the babies that are born with a birthmark or develop one shortly after birth, most have no problems connected to the mark at all. Indeed, most birthmarks are simply marks of chance that pose no medical concerns. Your child's birthmark will likely be noticed early by you and/or your child's pediatrician, and any birthmark should be watched over time to note any changes.
How Do I Know if a Birthmark Poses a Threat?
How can parents know when to be concerned over a birthmark? Your child's pediatrician can inform you of any concerns about your child's birthmark and when to seek an evaluation by a birthmark specialist. Our team here at The Vascular Birthmark Center often meets with parents and children that were referred by another physician. We can examine the birthmark and alleviate any concerns, or propose possible treatment options if they are warranted.
Types of birthmarks that may require special attention can include:
Moles – Most moles (Nevi) are harmless, but they can sometimes grow in areas that impede bodily functions or structures and need removed. Some moles can change over time, which can indicate the presence of skin cancer.
Port Wine Stains – While most are harmless, these abnormal capillary collections can occasionally impede vision, bodily functions or even cause seizures.
Hemangiomas – These collections of abnormal blood vessels can sometimes cause issues with nearby organs or structures.
Kaposiform hemangioendothelioma (KHE) – These are tumors formed by blood vessels below the skin, but can also develop inside bodily organs. They may cause problems with the body's ability to create blood clots when injured.
If your child has a birthmark and you are concerned, ask your pediatrician for an opinion. If they believe it is warranted, the specialists at The Vascular Birthmark Center can perform a detailed evaluation for your peace of mind. Contact us today with your concerns.
Posted on behalf of The Vascular Birthmark Center: Gregory M. Levitin, MD
200 W. 57th St., Suite 1410
New York, NY 10019
Phone: (212) 316-0616