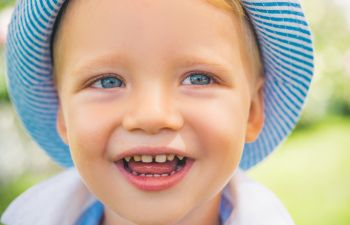 Midline venular malformations are a common vascular malformation seen at birth. Popularly called angel kisses or stork bites, these pink or bluish-colored birthmarks typically present on the middle of forehead or the back of the neck, but they can also appear on the eyelids and between the eyes. They are rarely known to grow or darken, and usually fade away over the first few years after birth.
Treatment Options for Midline Venular Malformations
Midline venular malformations are usually benign and can often be managed conservatively. However, surgery may be indicated for isolated, symptomatic venular malformations or following sclerotherapy to improve form or function. The size and location of the malformation are factors that determine surgical results. Symptoms associated with venular malformations and indications for intervention vary with the organ system involved.
Typical treatment options include sclerotherapy, when a solution is injected into the veins that causes them to wither and be reabsorbed by the body. When the offending blood vessels go away, so does the visible birthmark.
Laser therapy is an effective treatment option, and we use an advanced multi-wavelength laser at The Vascular Birthmark Center to help erase visible angel kisses or stork bites. We can also use a pulse-dyed laser to reduce discoloration stemming from midline venular malformations.
The procedures above are minimally invasive and we take care to ensure your child experiences no discomfort.
Does My Child Need Surgery for a Stork Bite Birthmark?
In some rare cases, surgery may be necessary to remove a midline venular malformation. Dr. Greg Levitin, our experienced plastic surgeon, is able to perform these delicate surgeries to restore symmetry and contour while improving appearance and function of the affected area. Scarring is kept to an absolute minimum and we use the latest technology to help ensure the best results.
Dr. Levitin uses an intraoperative nerve monitoring system during any precise surgical treatments where there is a significant risk of facial nerve damage. This advanced technology allows him a wider and clearer picture of the surgical landscape to assist in avoiding nearby nerves. Using this system reduces the risk of facial nerve damage to less than 1%.
Consult with our specialists at The Vascular Birthmark Center for help determining if treatment is necessary for your child's midline venular malformation. We can recommend the best treatment options, including surgery if this is indicated.
Posted on behalf of The Vascular Birthmark Center: Gregory M. Levitin, MD
200 W. 57th St., Suite 1410
New York, NY 10019
Phone: (212) 316-0616