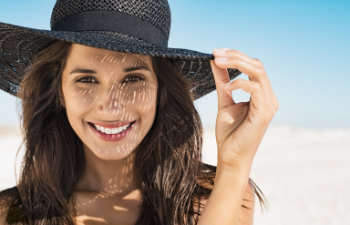 Summertime often means more time spend enjoying the sunshine with outdoor activities. A common question posed to dermatologists and birthmark specialists is, "Will the summer sun affect my birthmark?" Learn what you should know about sunlight and birthmark care and when to see a specialist.
UV Exposure and Birthmarks
It's a well-known fact that excessive sunlight and tanning bed exposure increases the risk of skin damage, including skin cancer. Those with certain types of birthmarks, especially those with dark pigmentation, can be at a higher risk; the darker pigmentation absorbs more sunlight, making birthmarks more susceptible to becoming cancerous.
Your professional dermatologist or birthmark specialist can share more about your specific type of birthmark and recommend needed protections from harmful UV exposure. As a general rule, people with birthmarks should use a good quality sunscreen with an SPF of 30 or higher when outdoors. Other recommendations are the same as for everyone:
Avoid sun exposure during the more intense UV hours of the day
Take advantage of shade
Stay well hydrated
Wear protective clothing, including hats
Sunshine and Moles (Nevi)
Your skin's colorization comes from special cells called melanocytes that produce the pigment melanin. Sunlight causes these cells to increase the production of melanin, which results in that beautiful tan everyone desires.
Of course, because moles (nevi) are concentrated clumps of melanocytes, increased sun exposure can also increase your risk for melanoma, or skin cancer. Moles are common birthmarks that can also develop later in life. This can be due to genetics or extensive UV exposure from the sun or tanning beds.
Monitor Any Birthmarks for Changes
Any changes in your birthmarks, or those of your child, should be evaluated by a specialist. Sometimes changes are expected and/or harmless; other times, changes can indicate a growing problem like cancer. Treatments are available to reduce the effects and/or visibility of many birthmarks, or even remove them.
If you have questions about your birthmark, or one on your child, schedule a professional evaluation and consultation with the specialists at The Vascular Birthmark Center of New York. We can recommend any necessary treatments and advise you about birthmark care, including sun exposure and protection.
Posted on behalf of The Vascular Birthmark Center: Gregory M. Levitin, MD
200 W. 57th St., Suite 1410
New York, NY 10019
Phone: (212) 316-0616